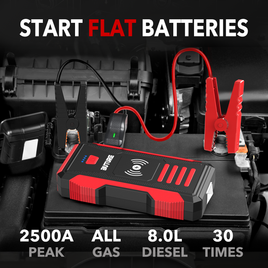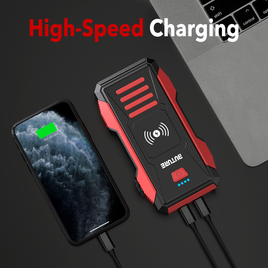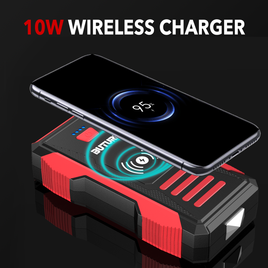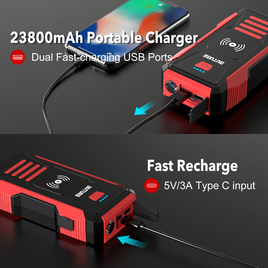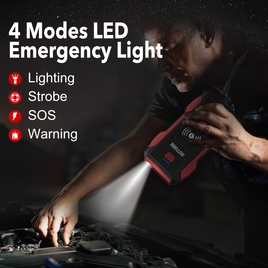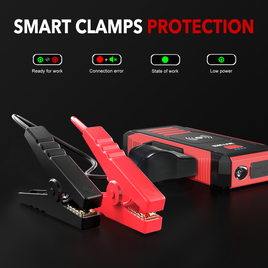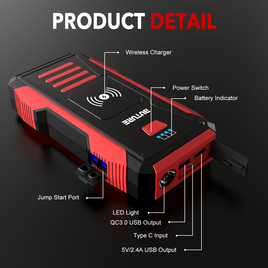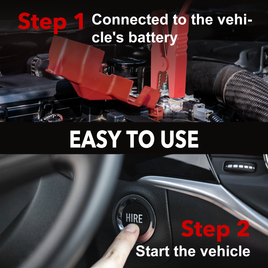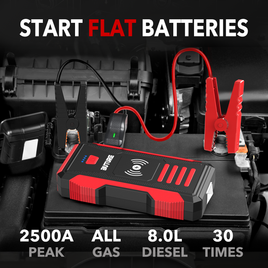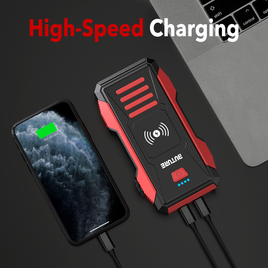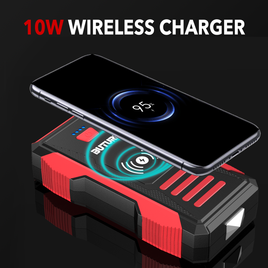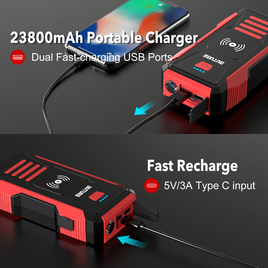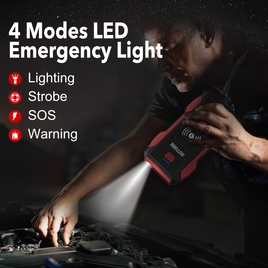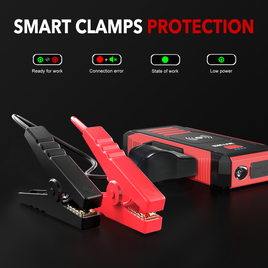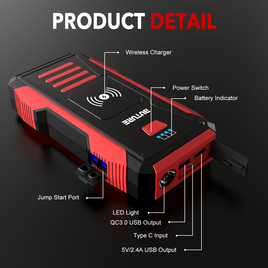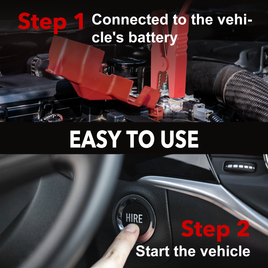 BUTURE Jump Starter BR600
BUTURE 4000A Battery Jump Starter, 27000mAh 10W Wireless Car Jump Starter Battery Pack, Car Jumper Starter Portable Jump Box (All Gas/8L Diesel) with DC Out, Hammer, Deluxe Package
【10W Wireless Quick 3.0 Power Pack】Combined boosted 10W Wireless Charger for your Qi-enabled devices based on 27000mAh Quick Charge 3.0 Power Pack (wide compatible & 4x faster than a conventional charger). This jump starter supports fast charging up to 3 devices simultaneously.

【4000A Heavy-Duty Jump Starter】Compact but high-performance, with current peak to 4000A and reinforced smart clamps, BR600 jump starter can reliably jump start any 12V vehicles (All Gas/8.0L Diesel engines) in seconds up to 50 times on a single charge.

【Power 12V Auto Devices】This portable jump starter comes with an EC-5 cigarette lighter adapter, easy to use it to power car vacuum cleaner, air compressor, car refrigerator and other 12V automotive equipments.

【Multi-Function】The jump starter is more than a car battery charger. It comes with built-in safety hammer and super bright LEDs functioning as an emergency flashlight.

【Long-Lasting Standby Time】We use the latest version chip running intelligent battery management system to slow down the batteries self-discharge – allowing the BR600 to hold its charge for up to 6 months while not in use.

【Advanced Protections】Intelligent jumper cable with indicating red/green lights and featured with 8 protections including mistake-proof, spark-proof and reverse polarity protection.
$119.99
BUTURE BR600 Car Jump Starter - The Best Partner on Your Road
Born to jump starting, featuring user-friendly extras. High capacity, high performance and high availability are assured.
Start your flat battery safely in 1-3 second(s). The jump starter is suitable for 12V vehicles especially heavy-duty ones (all gas/8.0L diesel engines), works up to 30 times on a single full charge, and adapts to wide -20℃~60℃.

Fast, universal, no more wires fuss. Just align your smartphone to the center of BR600 jump starter, and enjoy a speed up to 10W. Get fast charging for wide range of compatible devices anywhere—even in the palm of your hand.

23800mAh Fast Charge 3.0 power pack, USB C recharged within 4 hours, charge 3 devices simultaneously and enjoy 6-month worth of charging capacity while not in use.

With EC-5 cigarette lighter adapter can operate 12V auto devices, such as air compressor, car vacuum cleaner, car refrigerator.

Multifunctional lifesaver with hardened safety hammer for emergency and 4-mode LED flashlight (Flash / Strobe / SOS / Warning) under different circumstances.

Intelligent jumper cables with reinforced durable clamps, timely beep indicator, all-metal and ergonomic design, runs ≥8 protections for comprehensive safety operation.

Handheld and easy to pack in your bag, only 1.37 pounds weight, with a carrying case, ideal for travelling and camping remotely.
Specifications:
Peak Current: 2500A

Capacity: 23800mAh

USB C Input: 9V/2A, 5V/3A

2 USB Outputs: 9V/2A, 5V/2.4A (Fast Charge 3.0); 5V/2.4A

Temperature Range: -20℃~60℃/-4℉~140℉
Included:
1* BUTURE BR600 Jump Starter

1* Smart Jumper Clamps

1* USB C Cable

1* EC5 Cigarette Lighter

1* User Manual

1* Storage Bag