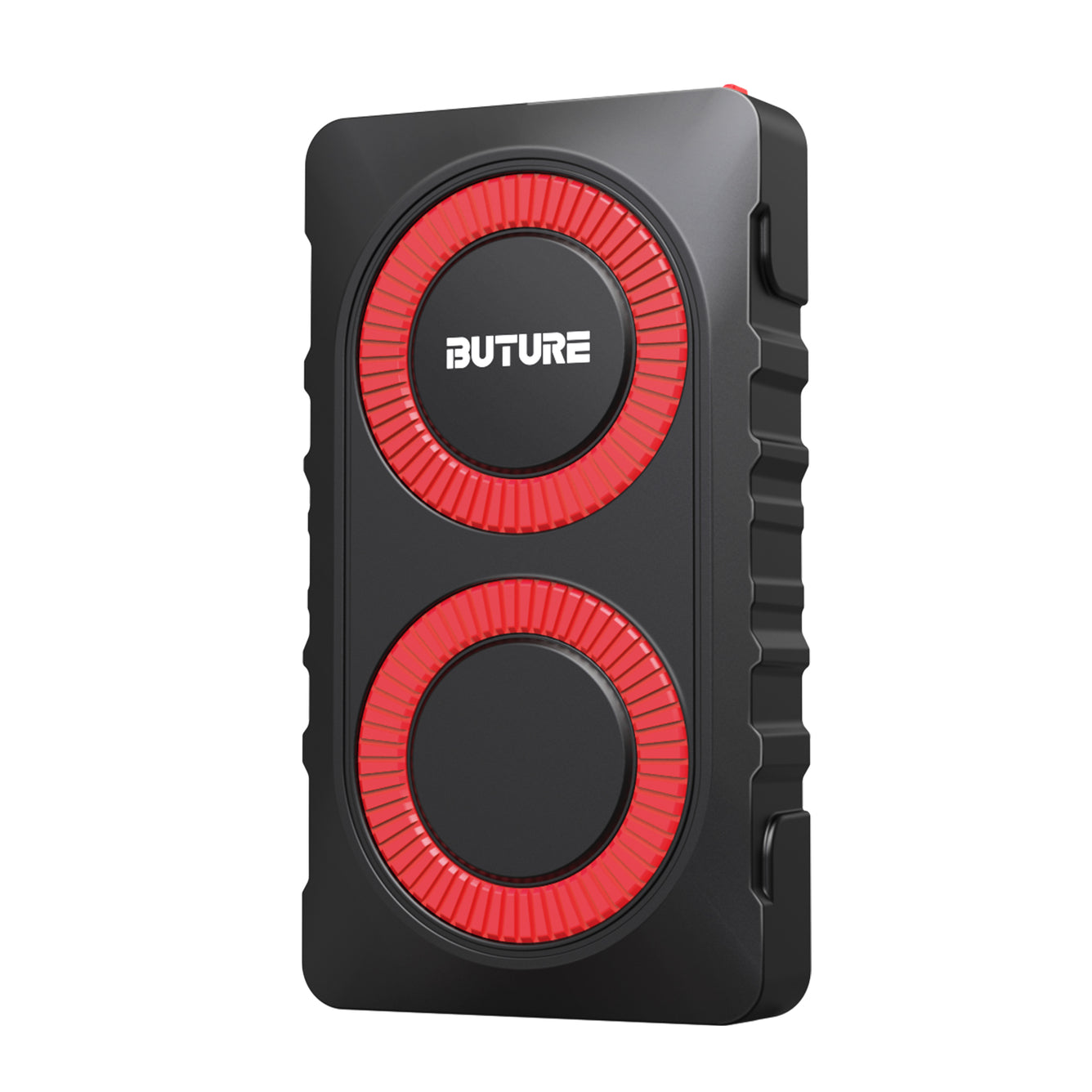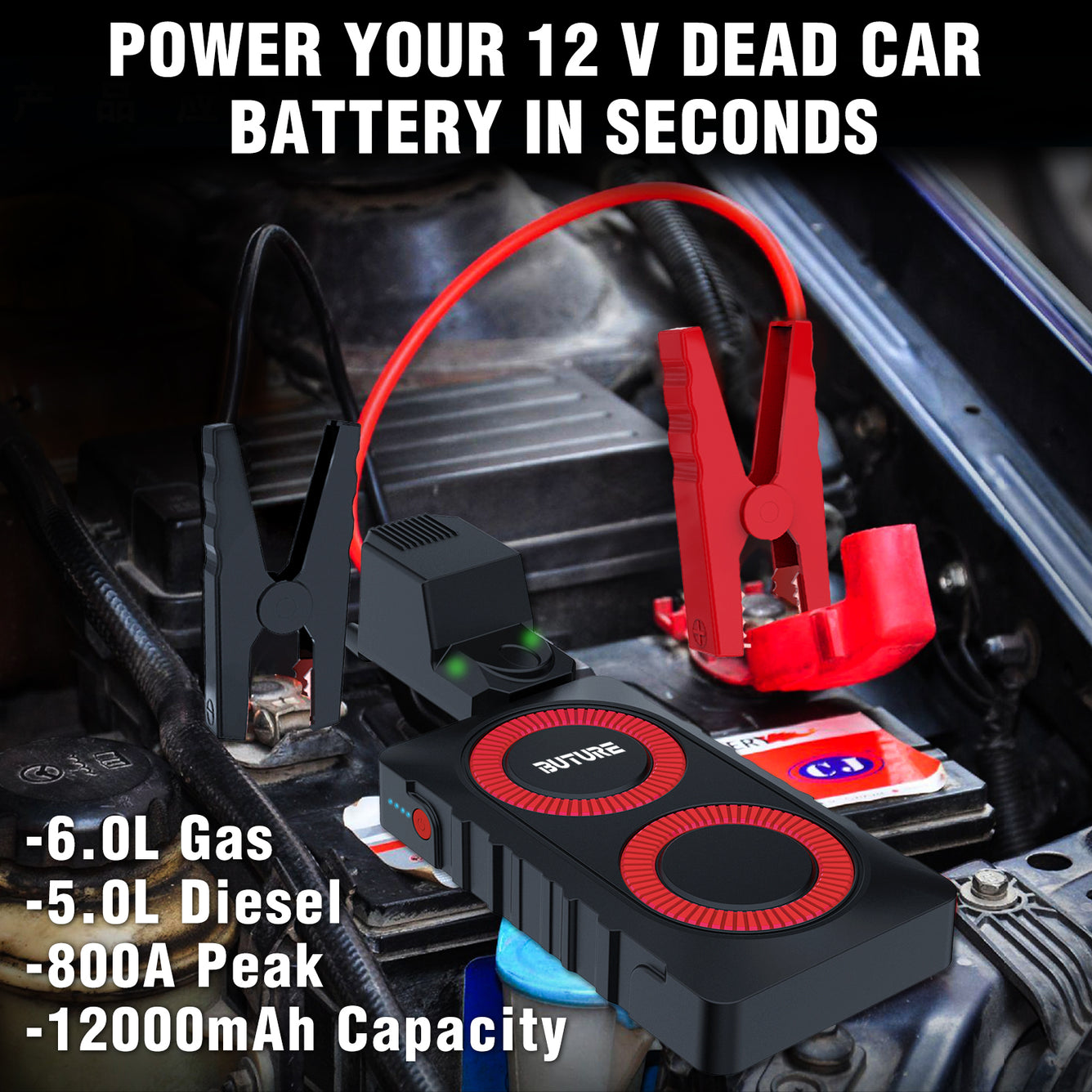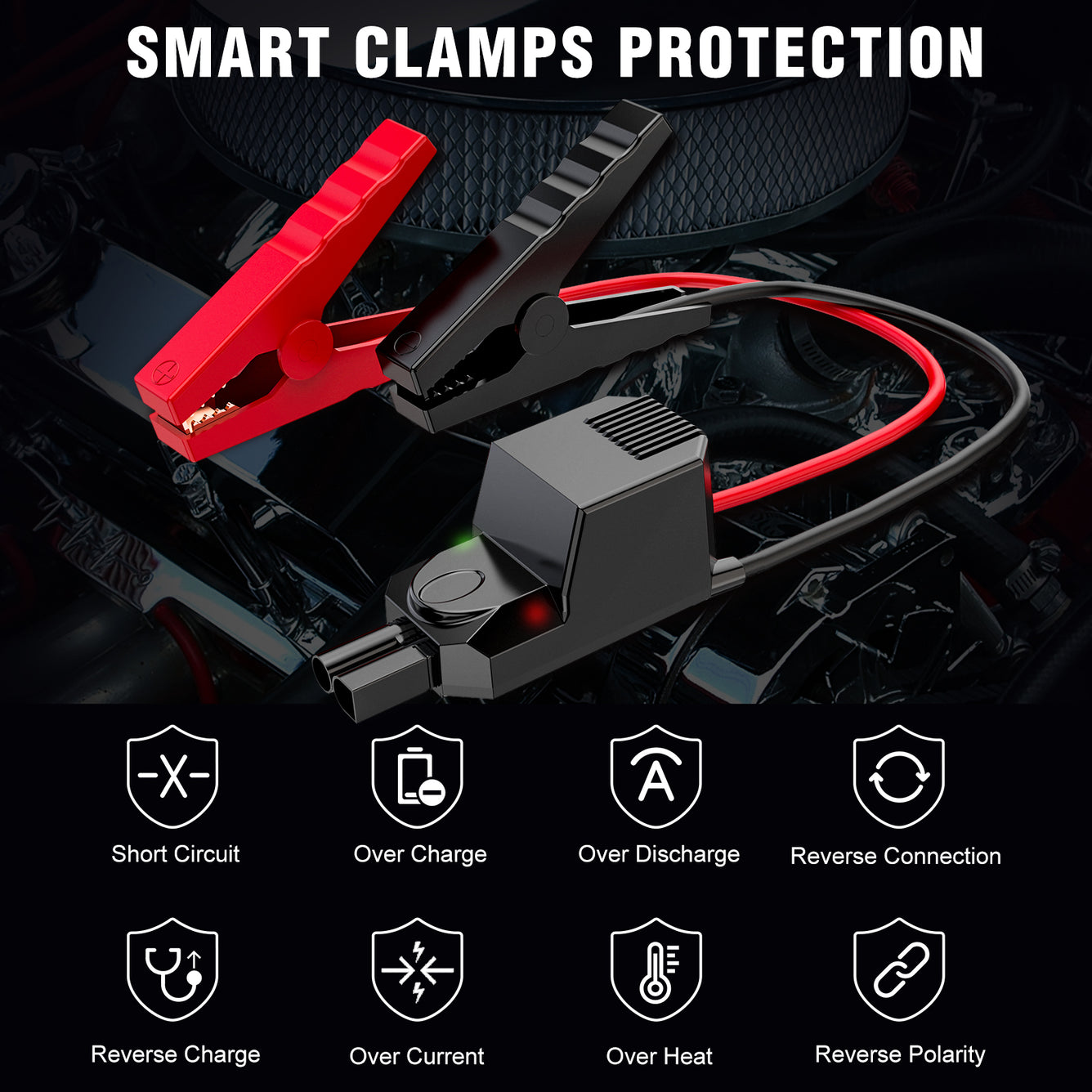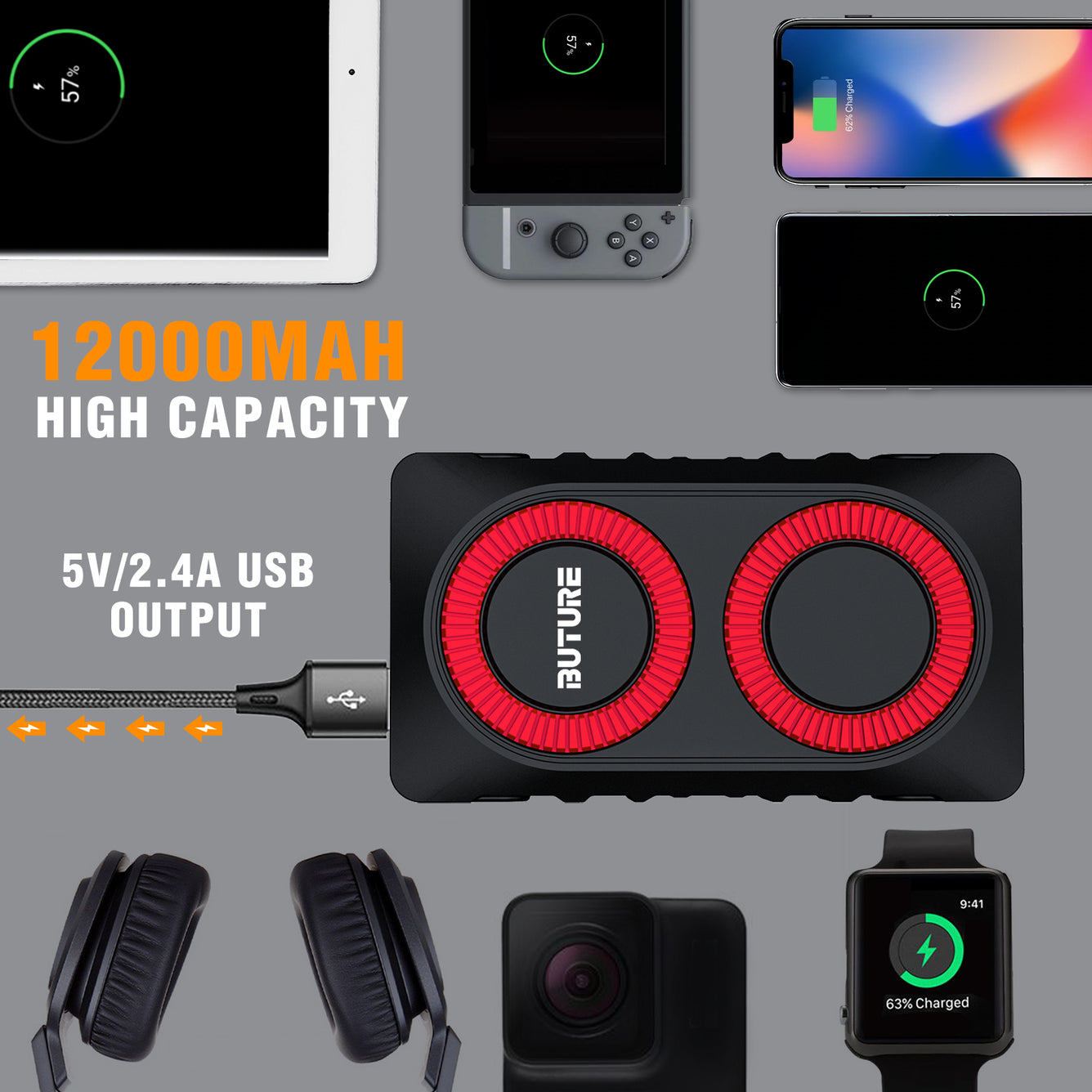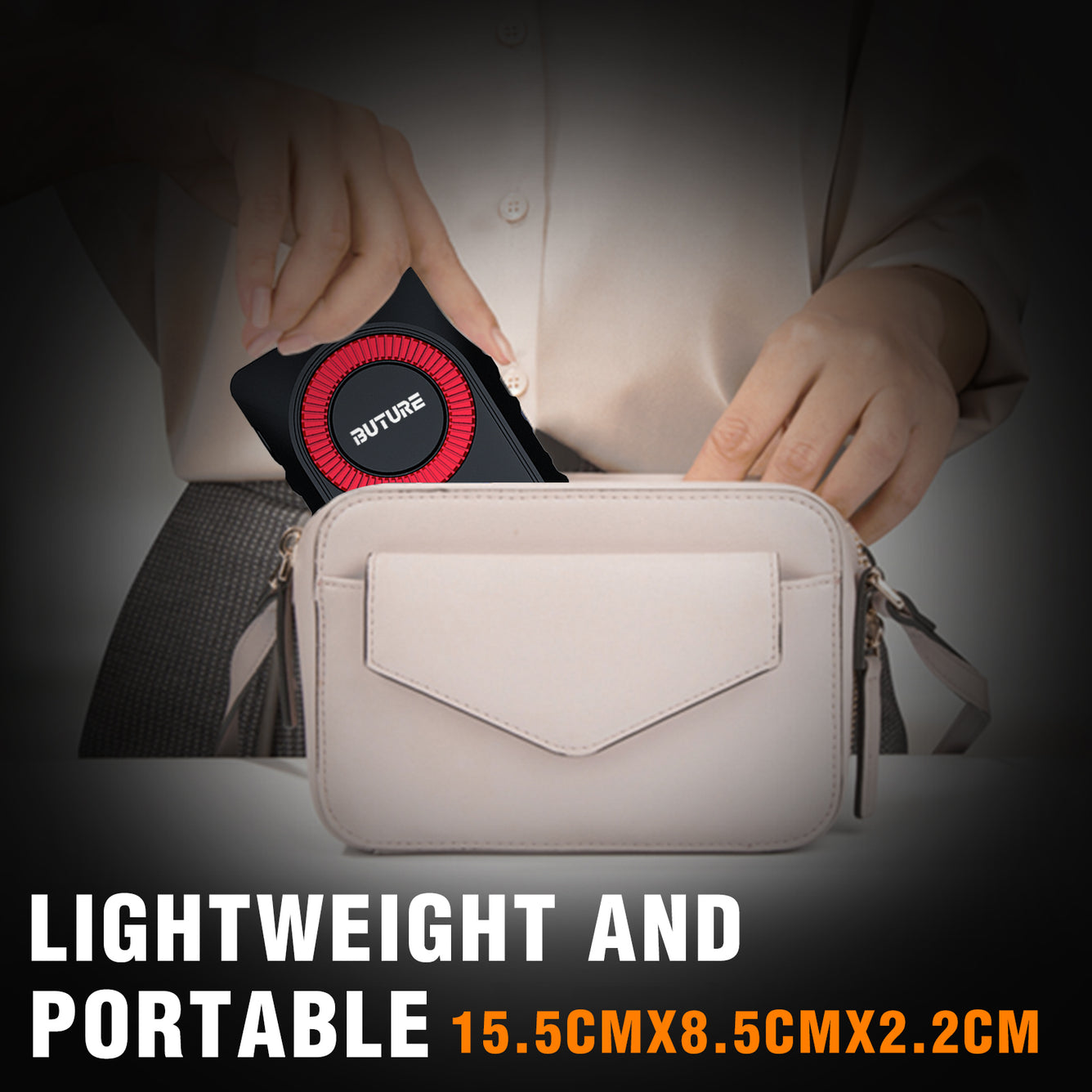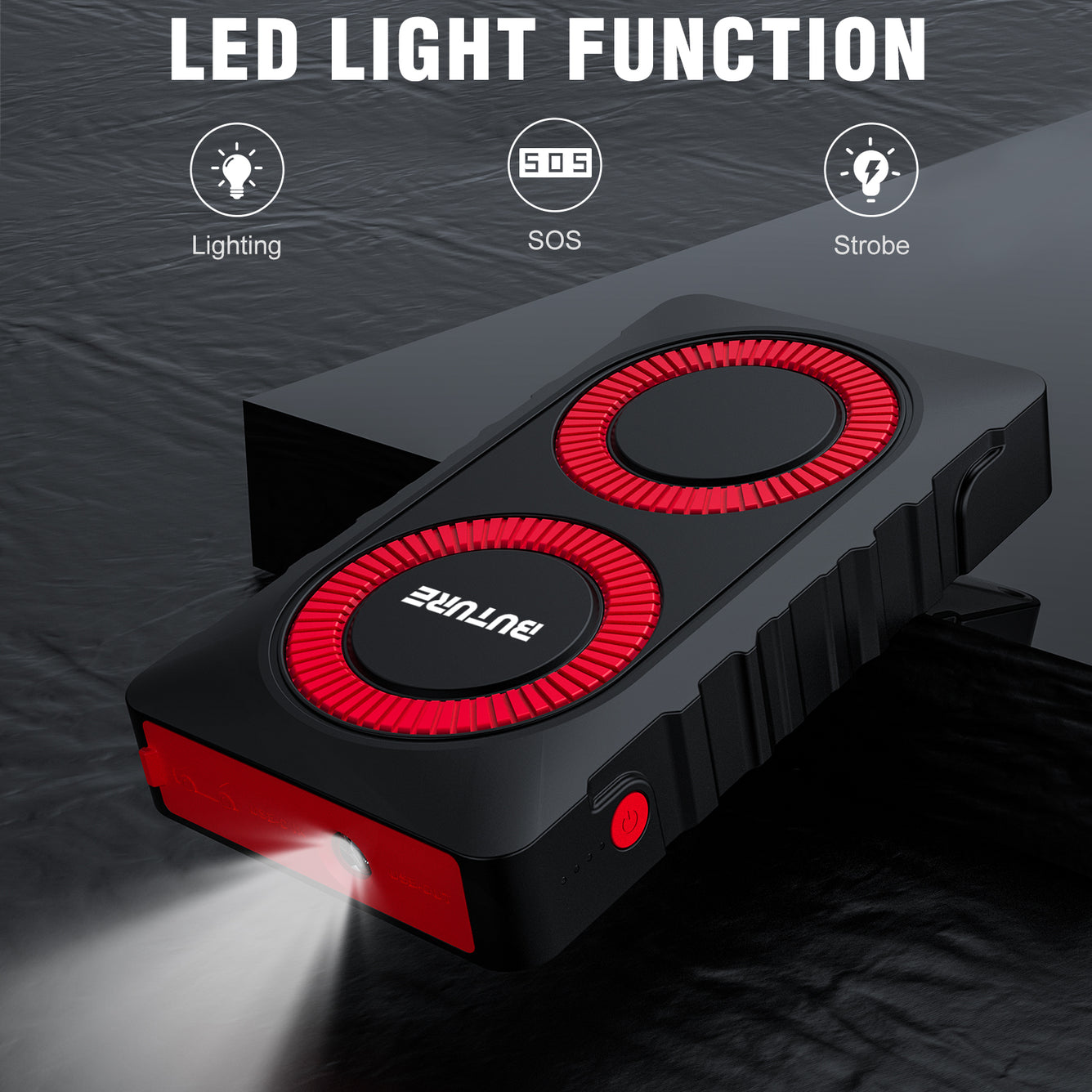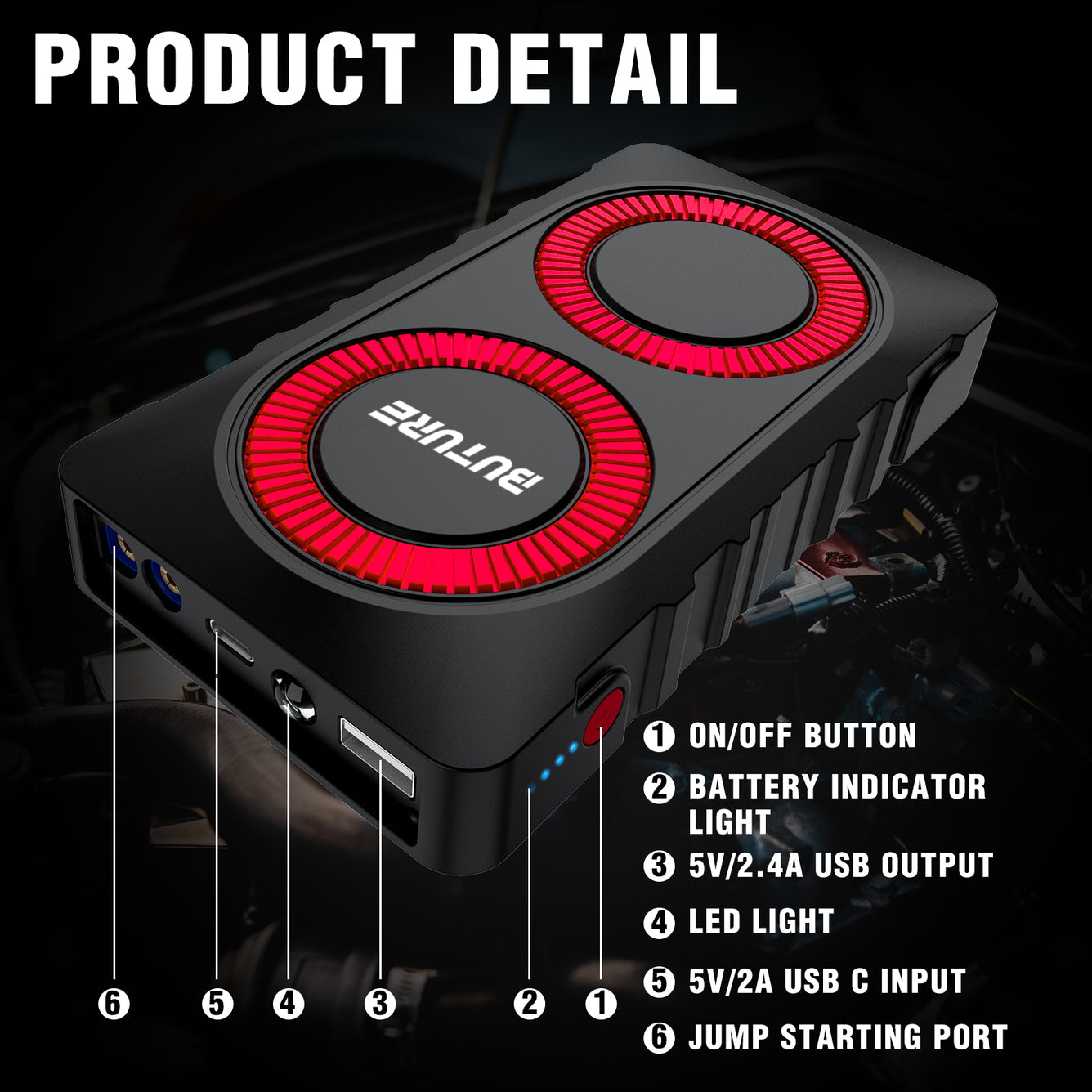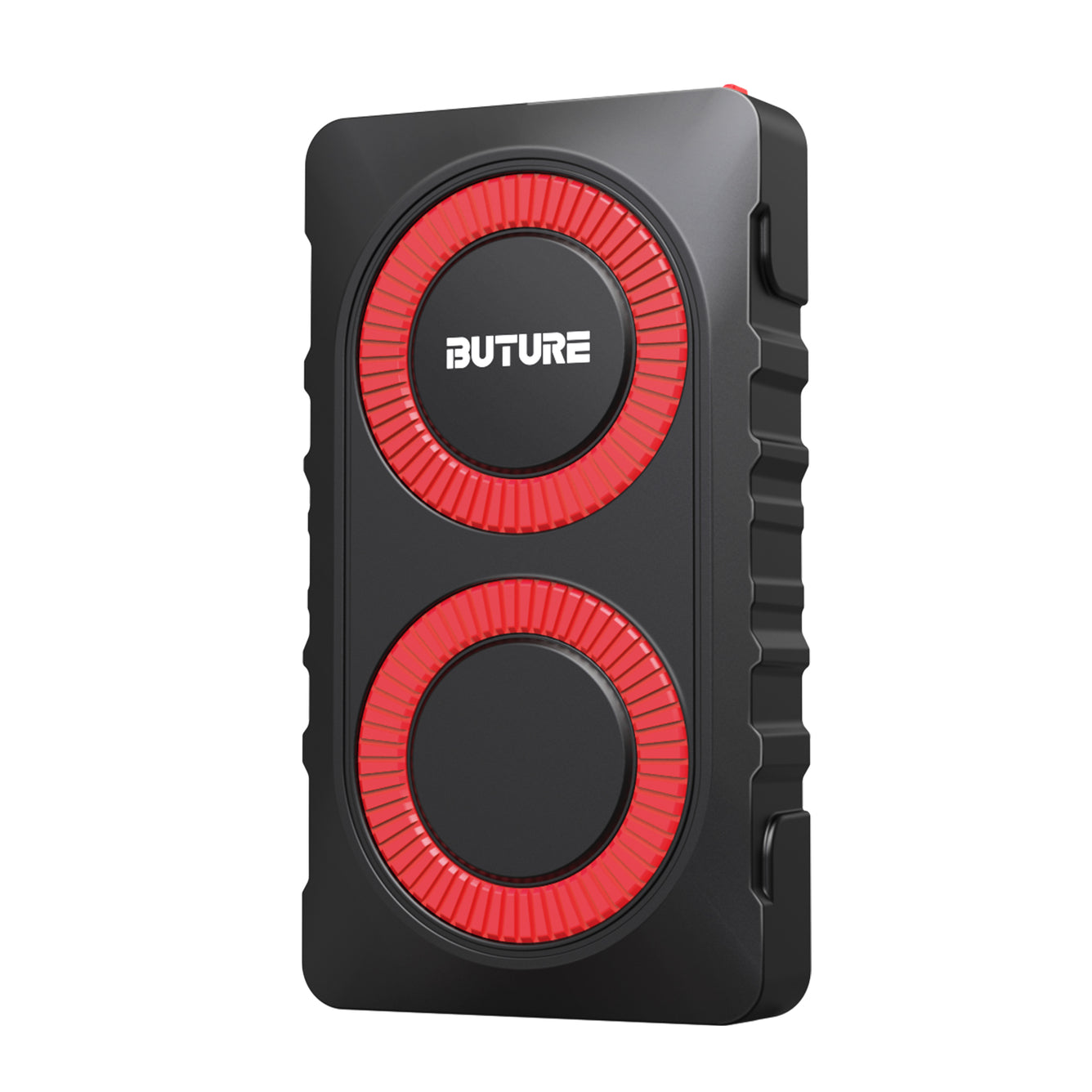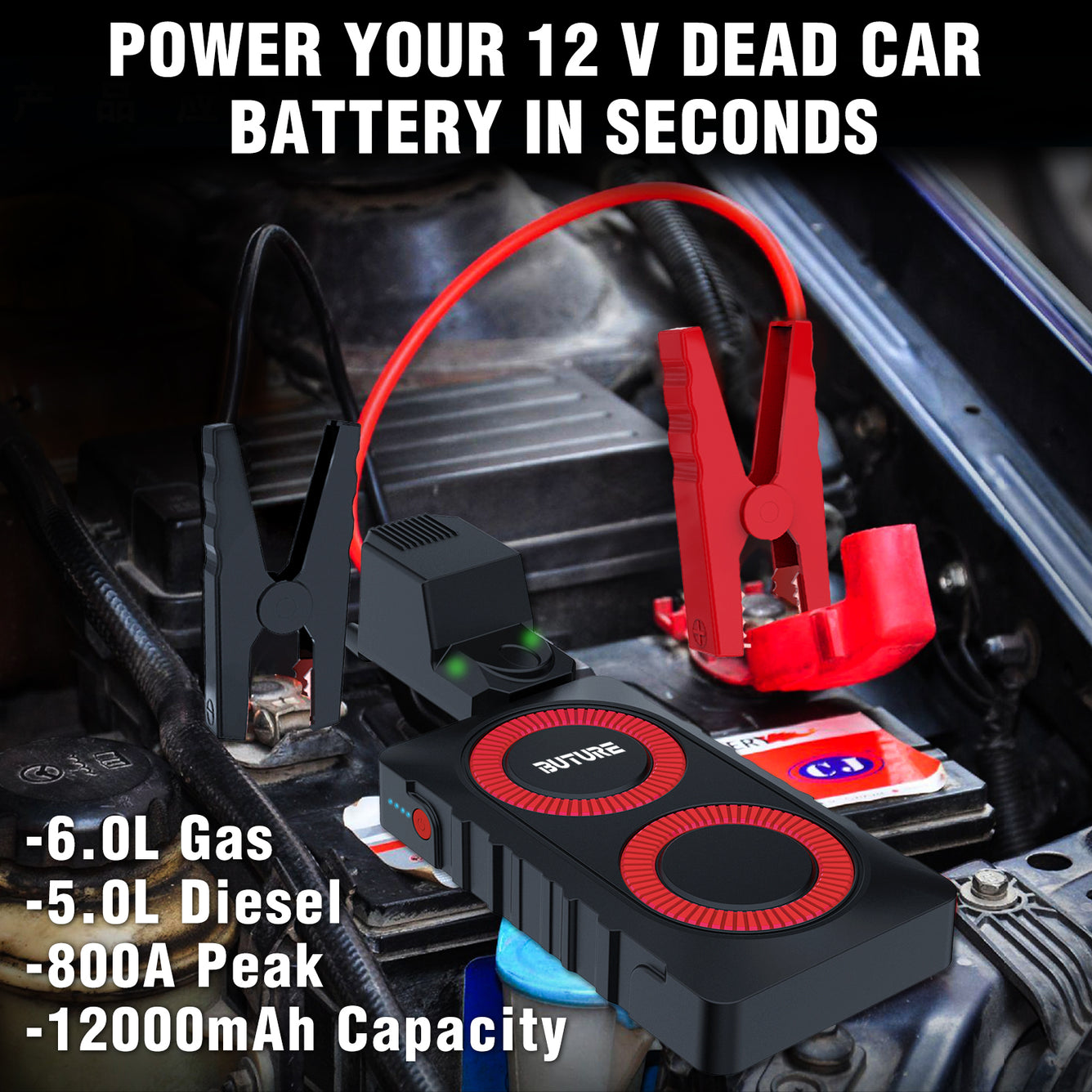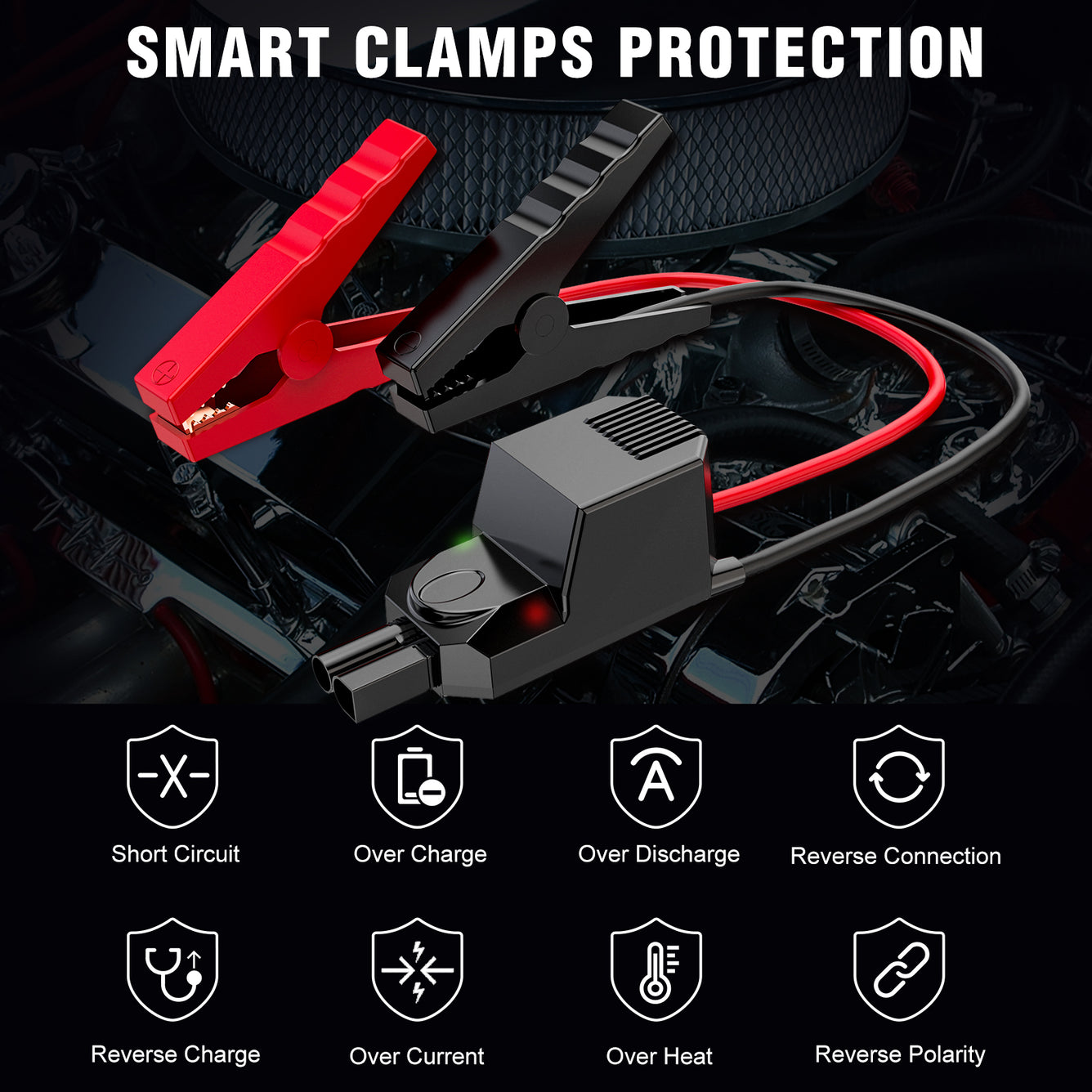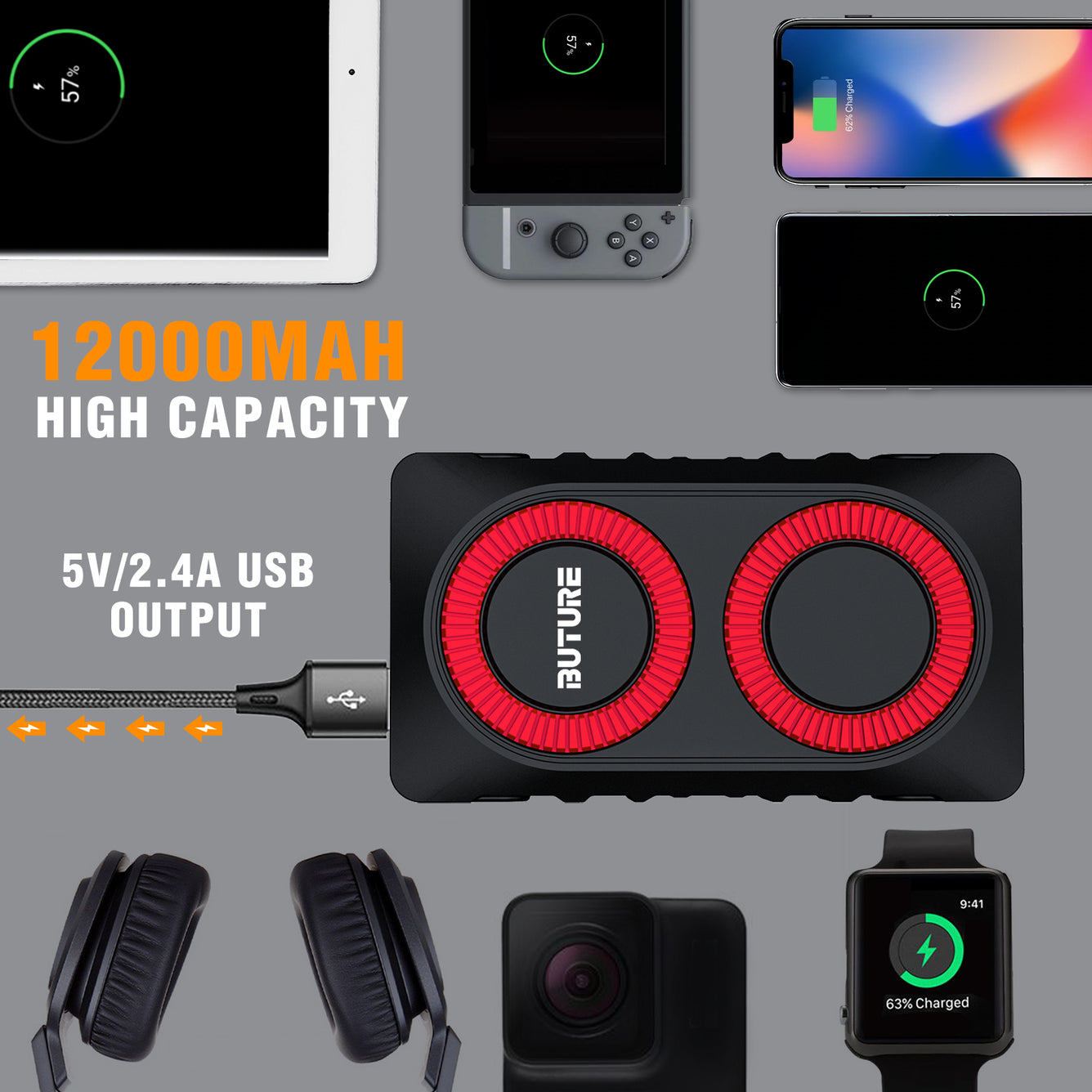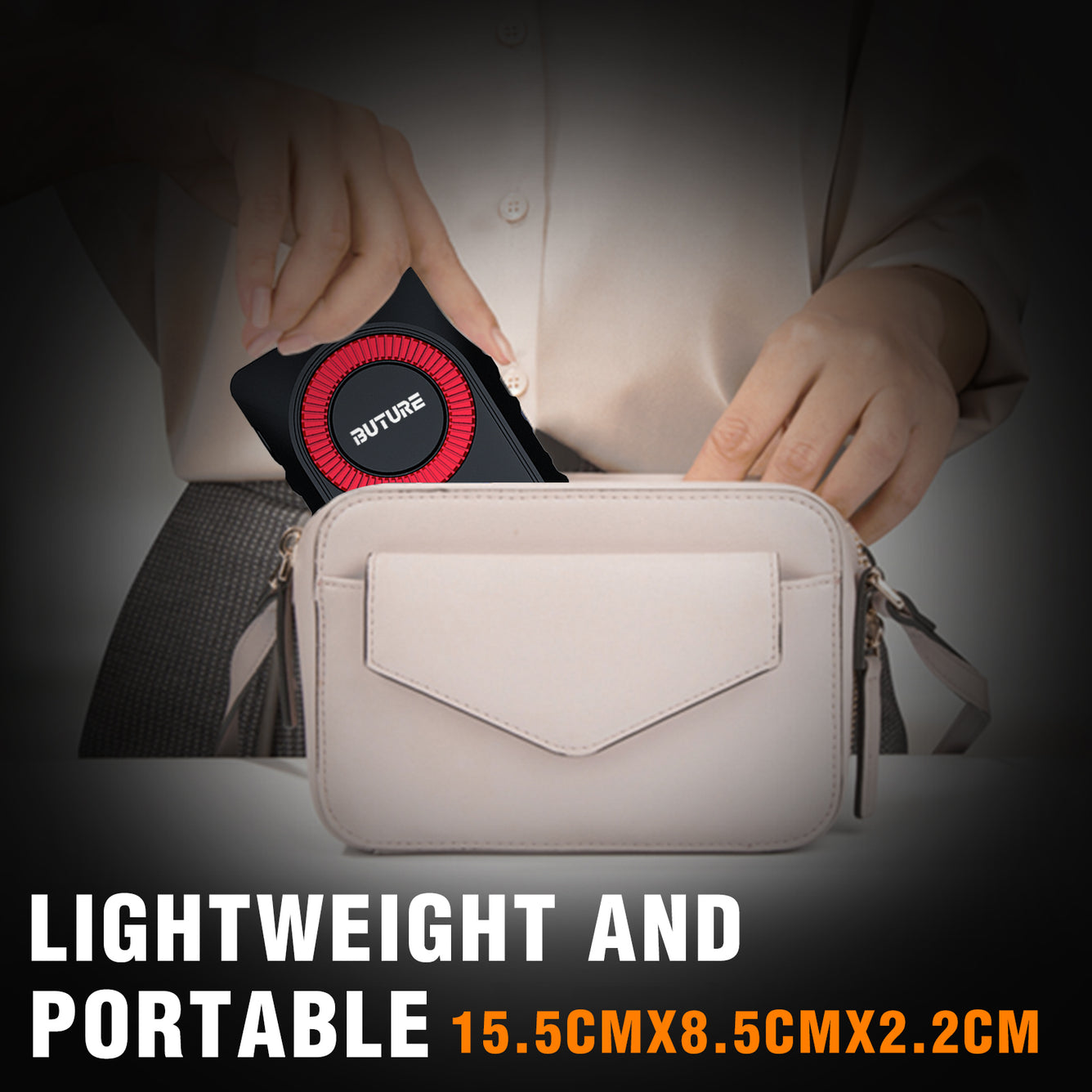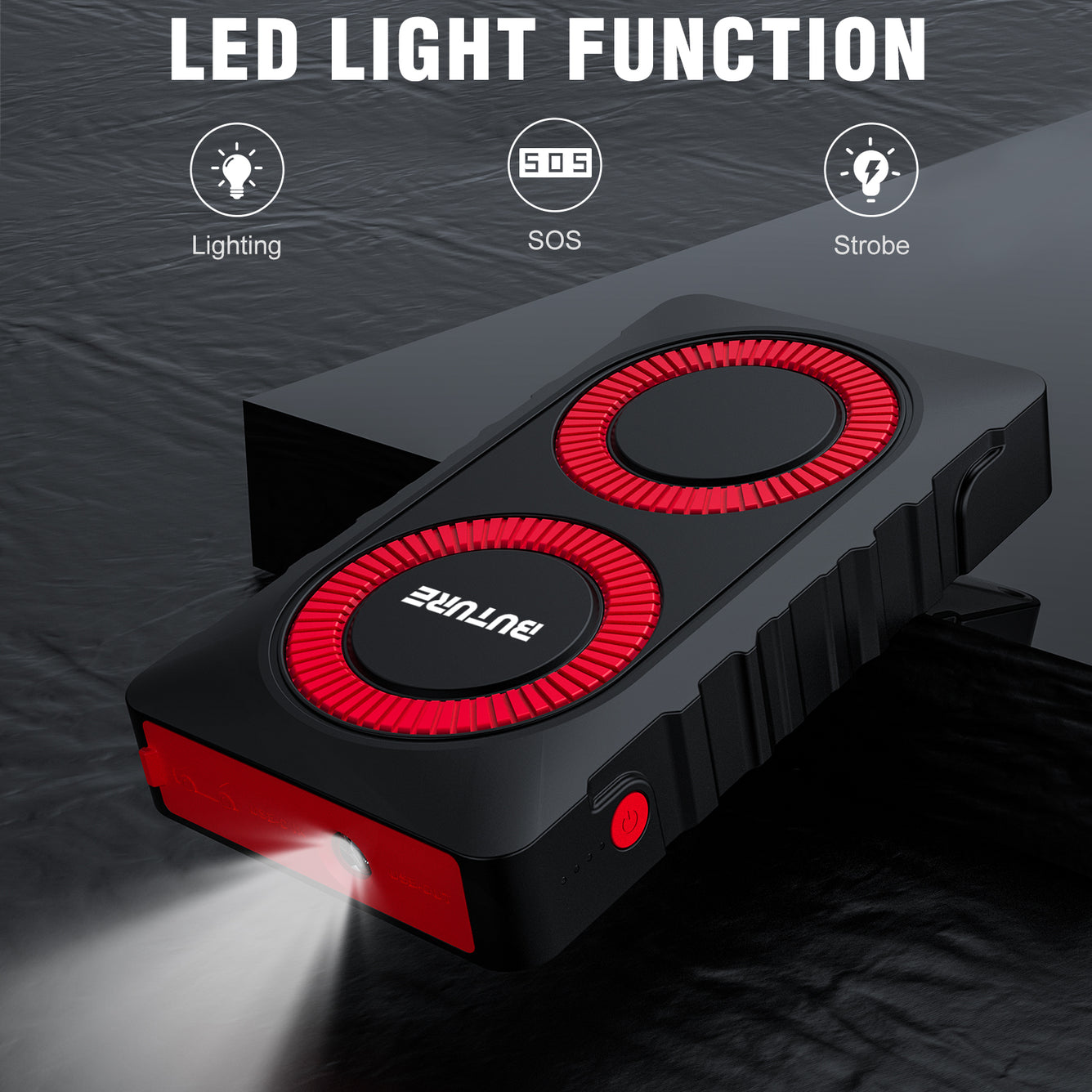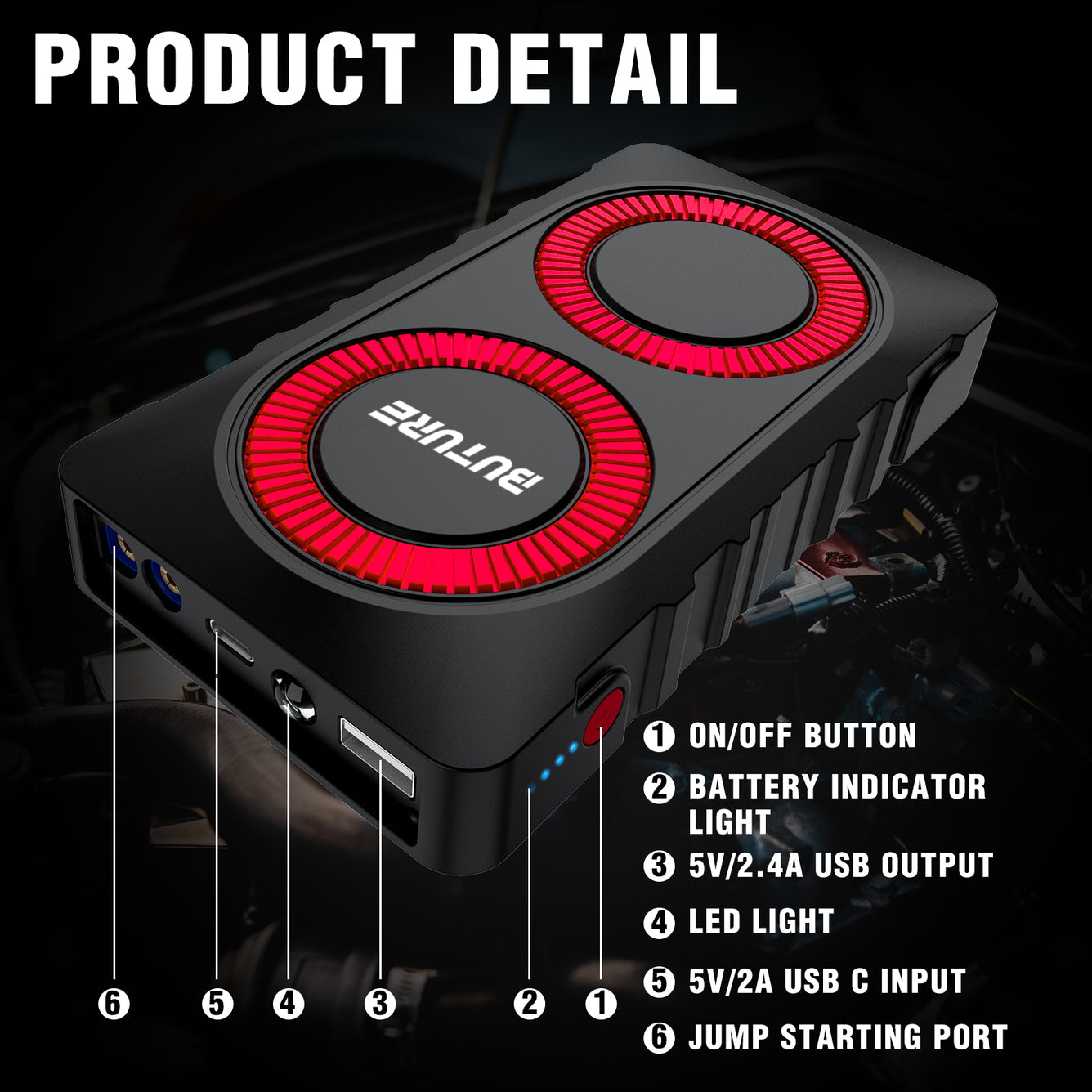 BUTURE Jump Starter BR800
BUTURE Car Battery Jump Starter 1200A Jump Box 12800mAh Portable Car Jump Starter Battery Pack (6.5L Gas/5.5L Diesel) Car Jumper Starter with Extended Smart Jumper Cables, Fast Charge, Lights, Compact
【Robust Car Jump Starter-2023 Upgraded】Driven by stable 1200A, the battery jump starter battery pack can easily restart 12V dead vehicles up to 6.5 gas/5.5L diesel engines in seconds even at -4℉~140. Support more than 1000+ recharge cycles and easier than asking help from others or roadside service.

【12800mAh Battery Charger Power Bank】 Integrated 4 thinner, high-capacity battery packs, the battery jumper starter portable also works as a long-lasting power bank recharging any personal mobile device, like smartphones, tablets, or other USB devices.

【Critical Rescuer】The jump starter battery jumper has 3-mode versatile LED flashlight (lighting/flash/SOS). In emergency, this car jumper battery pack is a reassuring lifesaver in the dark when camping, hiking or on an adventure trip.

【Rugged Cover & Rainproof】More rugged casing protects the car battery jump starter against harsh outdoor environment like dust and bumps. This jump starter portable can also be used in the rain.

【Smart Operation】Updated jump pack with extended jumper cables can reach varied battery terminals. Multi-layer certified system offers 10-mode smart protection against misuse, protecting you and your vehicle. Safe and easy for everyone to use.

【Ultra Compact】Measureing only 6*3.35*1.1in and 0.69lb, the battery jump box fits perfectly into corner of your notebook or car. Allowed on planes. Portable and comes in handy always.
$79.99
BR800 Portable Car Jump Starter: Hit the Road with Peace of Mind Anytime, Anywhere!
The jump starter can safely start all 12V vehicles rated 6.0L Gas or 5.0L Diesel engines in seconds. Suitable for cars, motorcycles, trucks, boats and more.

Never get stranded somewhere with a dead battery even at -4℉~140℉. Faster, easier and more inexpensive.
Battery Charger with Long Standby Time
Extremely low self-discharge with 4 high-speed batteries and accurate battery management system. Holds up to 12 months and ready for you always.

With quick-charge tech and wide compatibility, this jump starter can quickly charge your USB devices.
Multi-Functional Life Saver
Handheld jump starter with 3-mode LED flashlight: flashing, strobe and emergency SOS.

Provides you a brighter operation environment, and an easier way to attract attention and seek help especially in the dark.
Works at Extreme Temperature
Featuring high-discharge technology for normal usage and safe operation in any climate (-4℉~140℉), the jump starter is ready always.
Specifications
Capacity: 12000mAh

Start Voltage: 12V

Peak Current: 800A

Battery Cycle Life: ≥300 times

USB C Input: 5V/2A

USB Output: 5V/2.4A
Better User Experience
Extended & Ergonomic

smart jumper cables Extended cables are capable of reaching most battery terminals, bolder cables for better conductivity and larger opening range for ease of use.

Safety Comes First:

Improved 8 protections and visible alarms are running automatically, timely and accurately for your full safety.

Longer Service Life:

More durable textured surface and metal clamps make it both concise and exquisitely non-slip, effectively preventing breakage caused by long-term use.