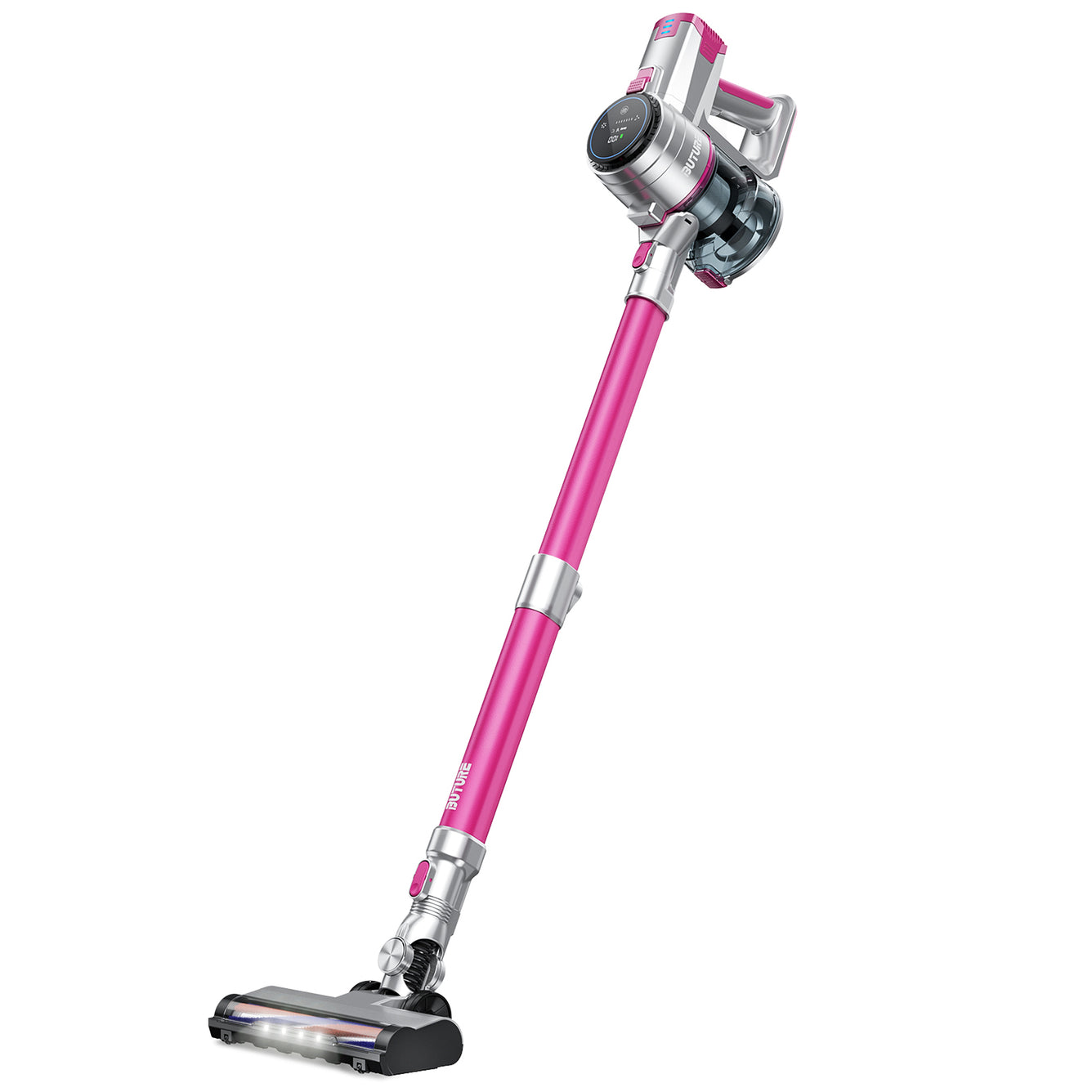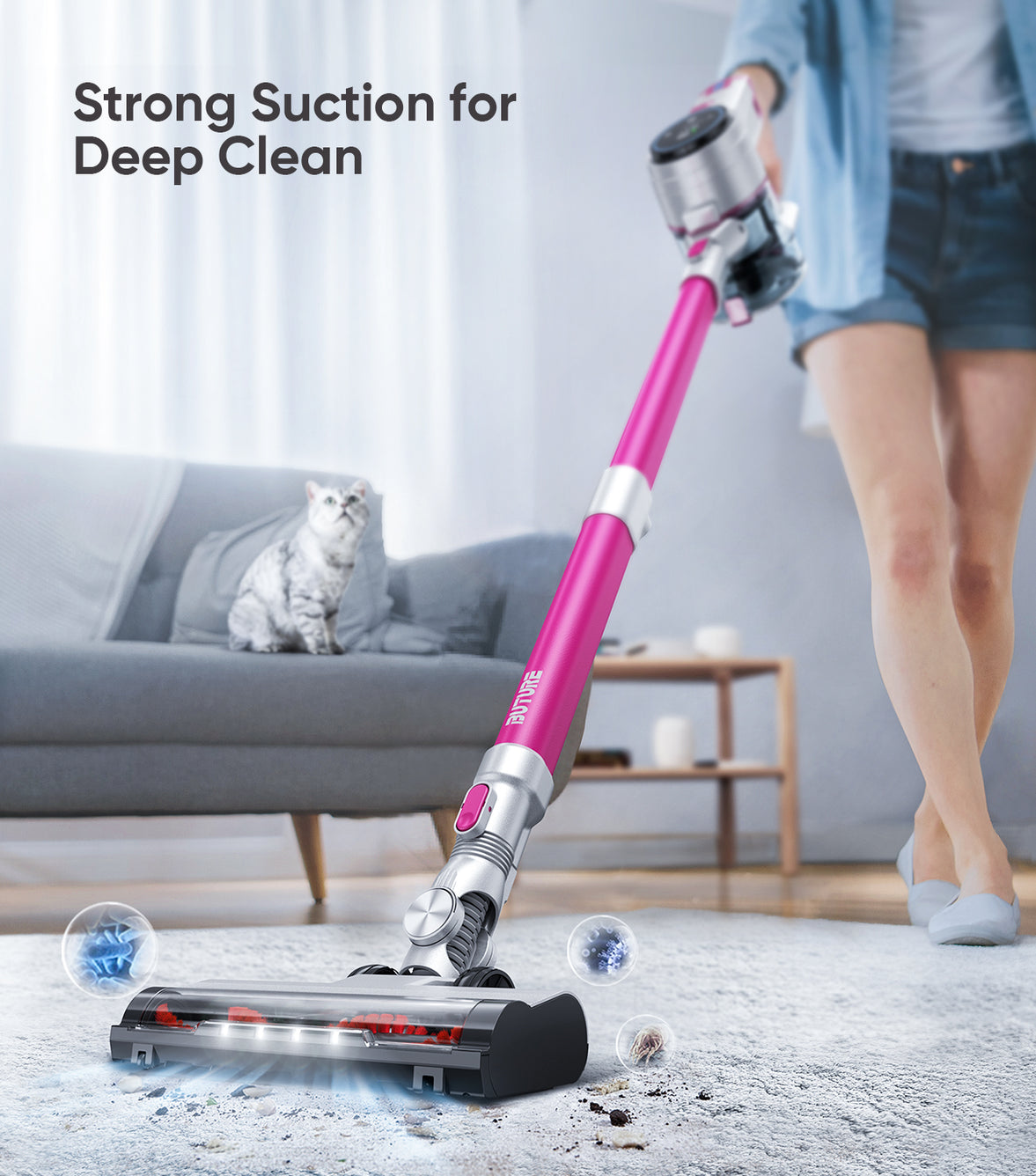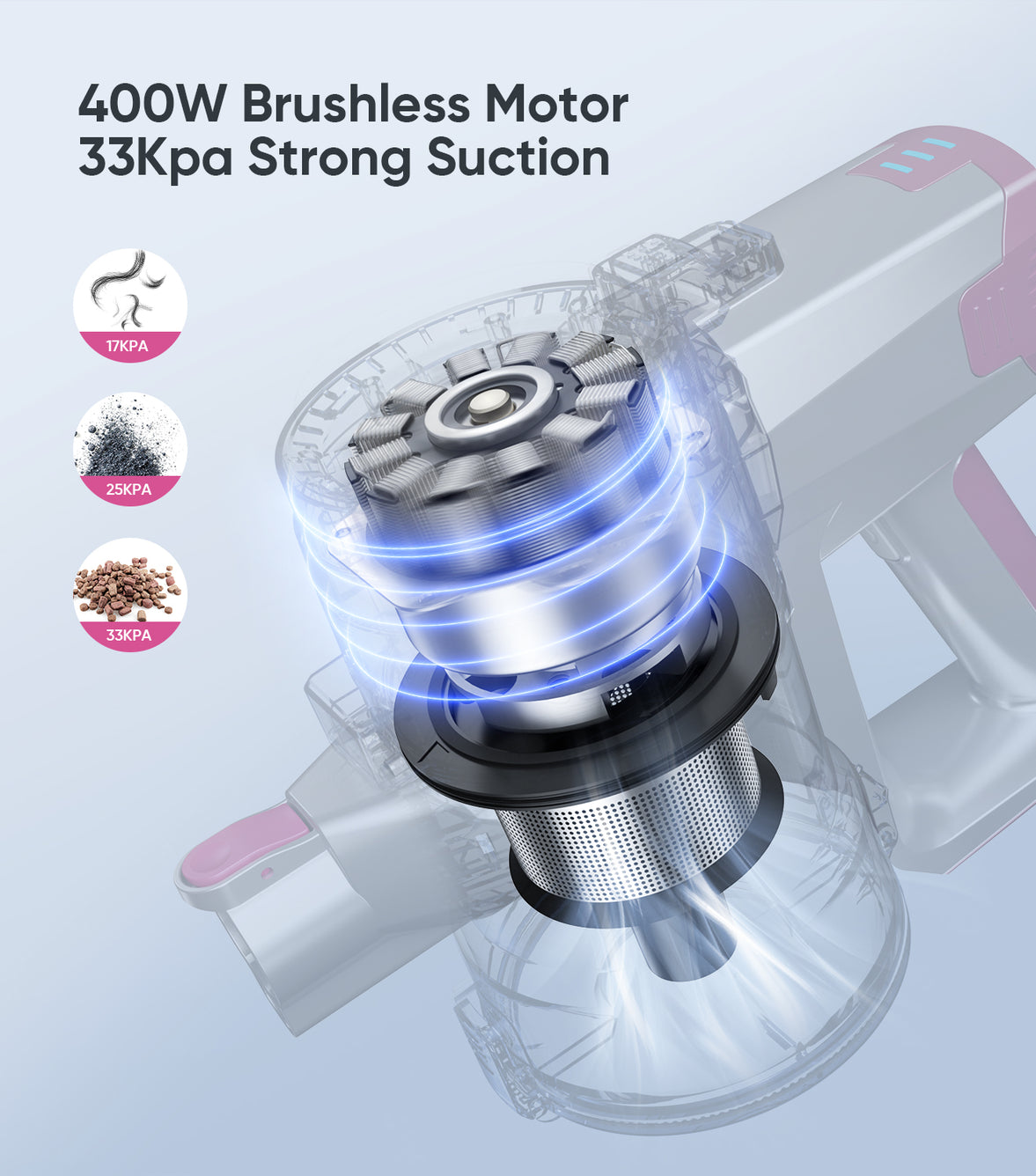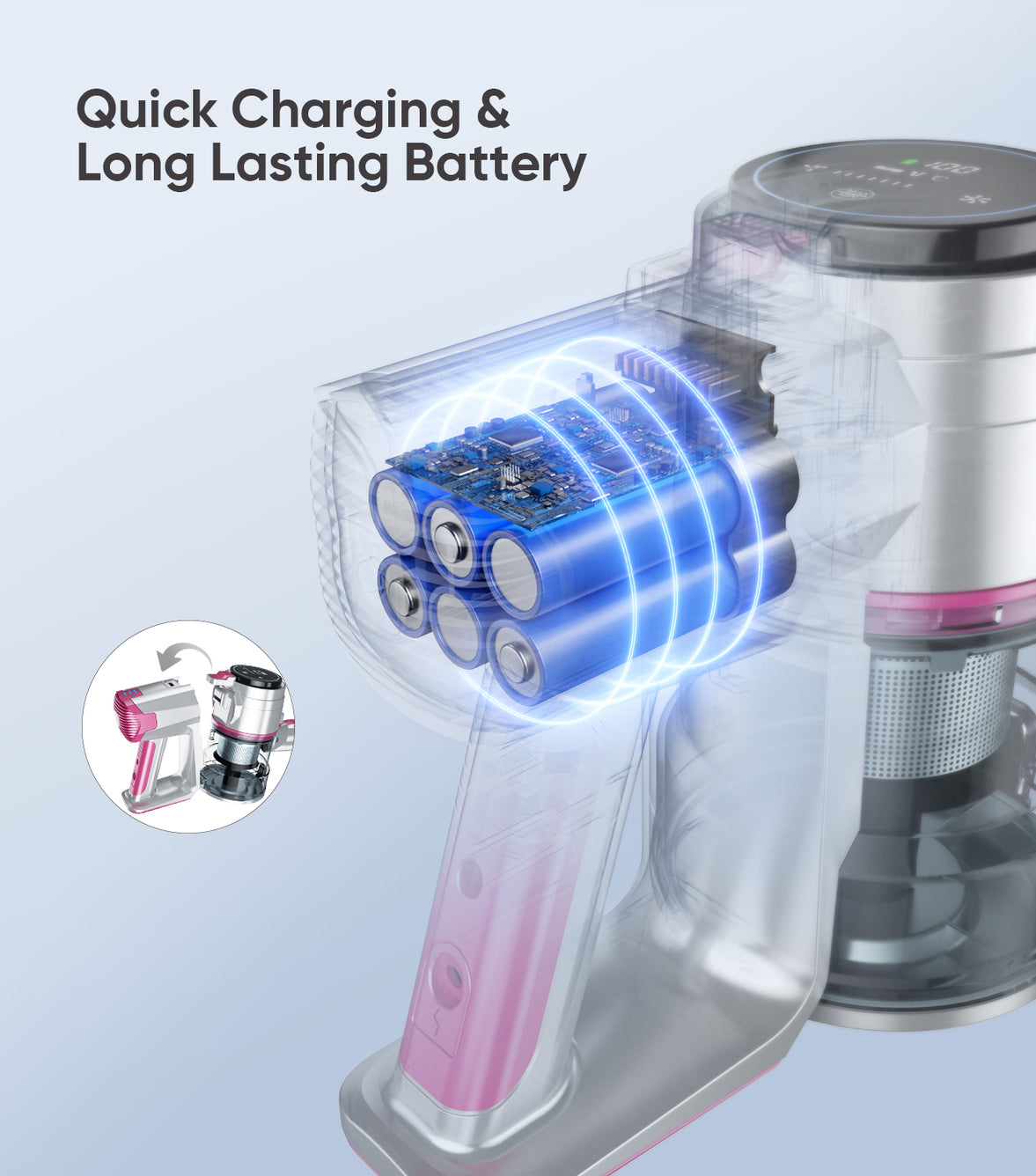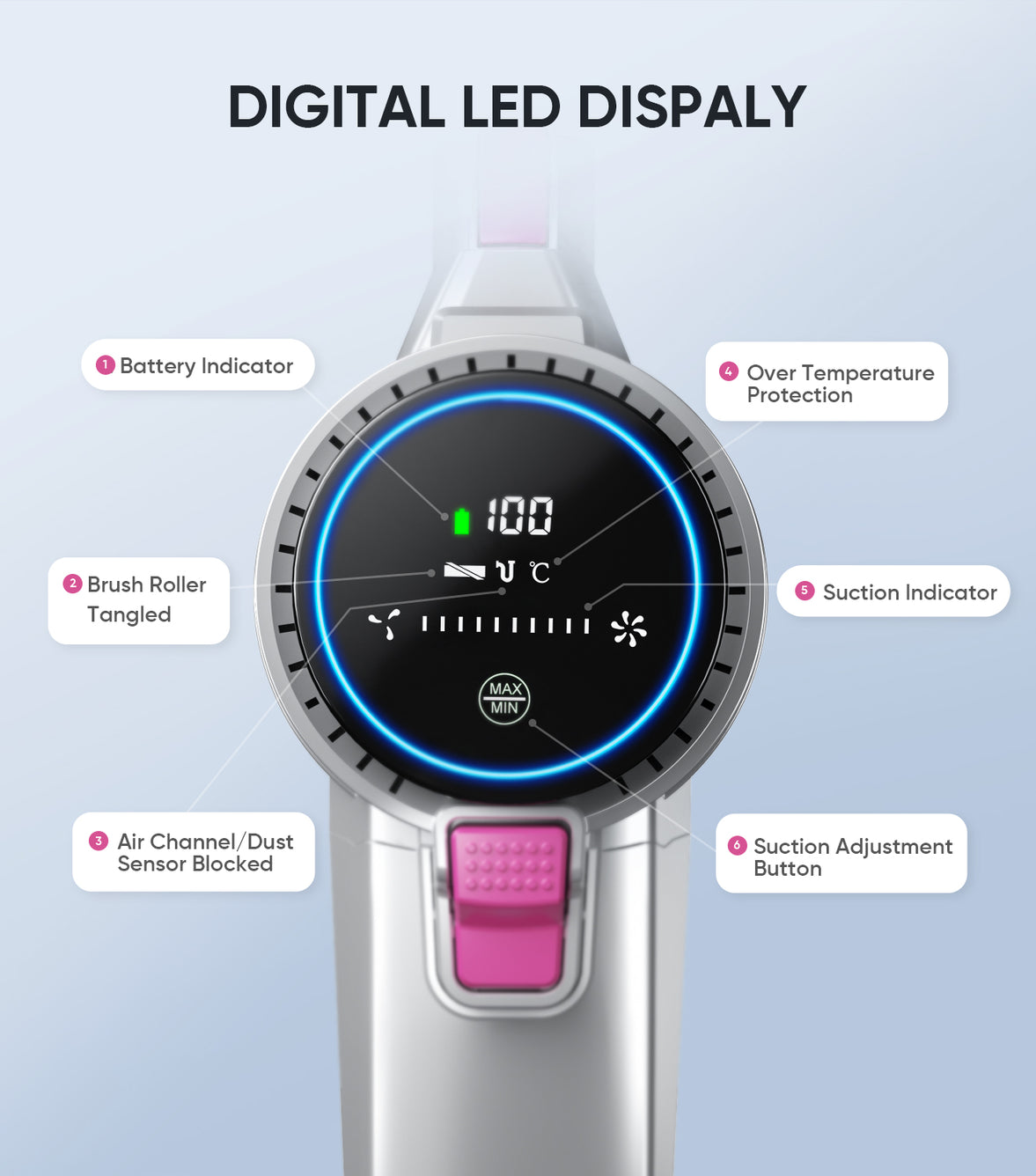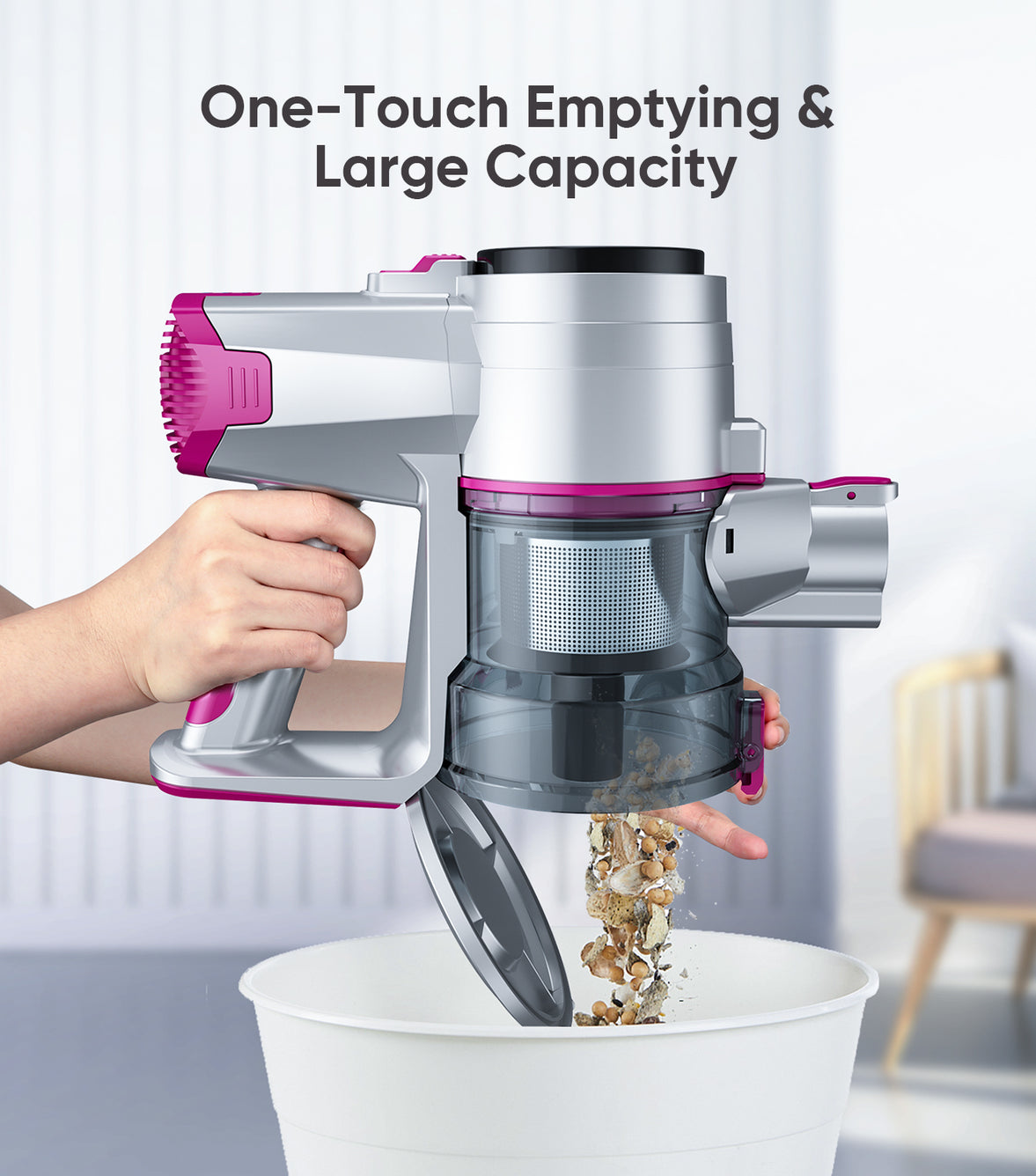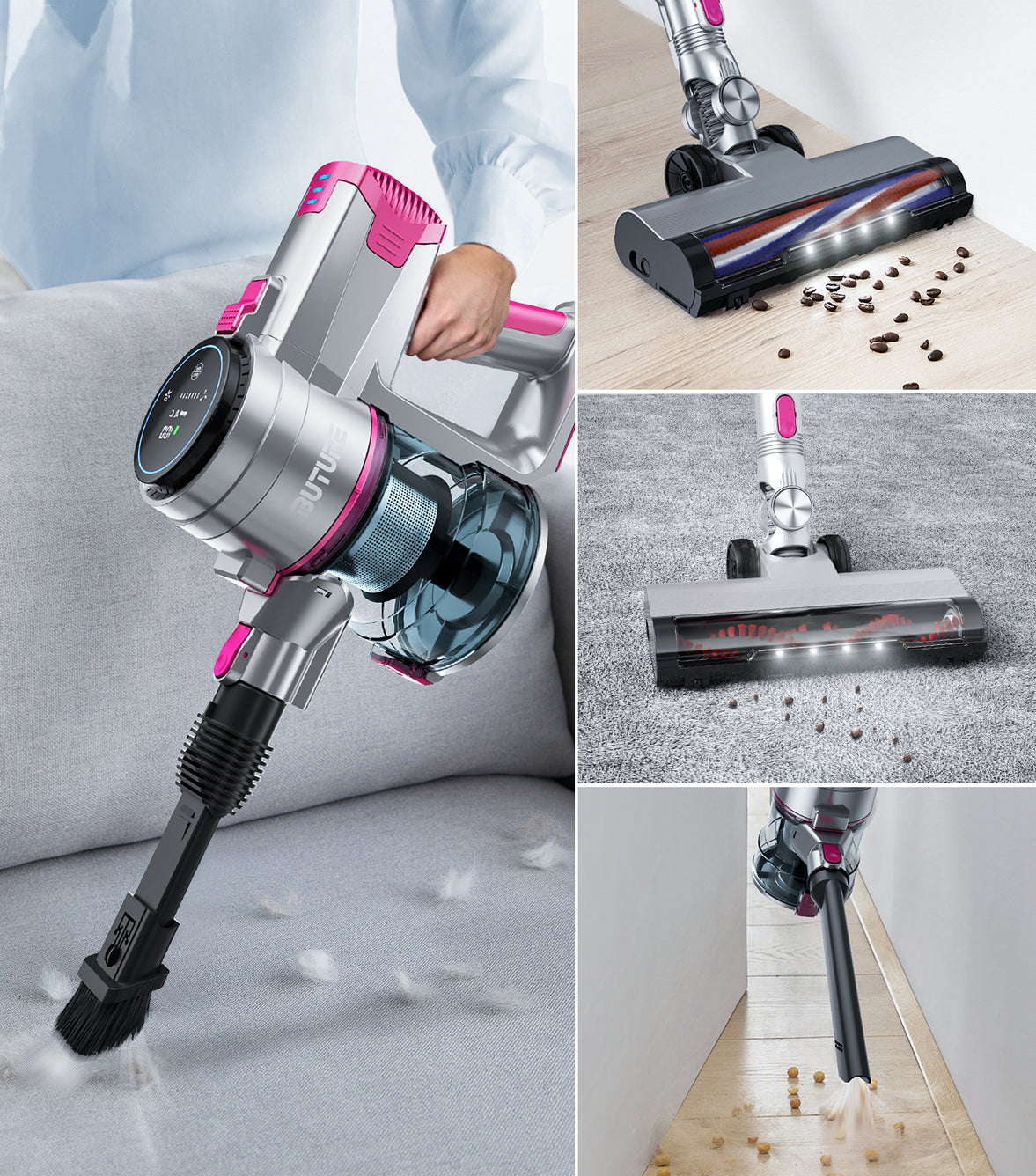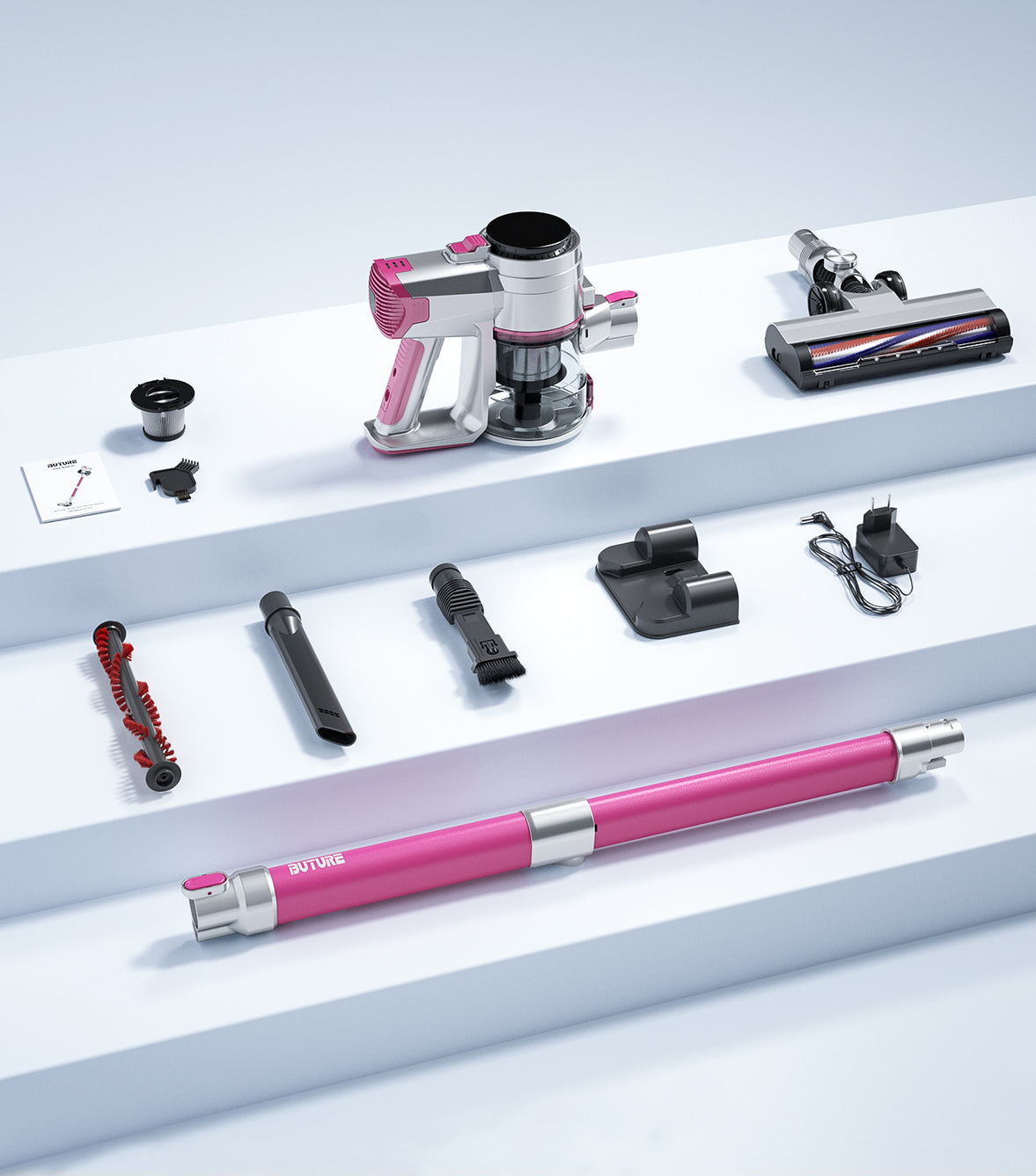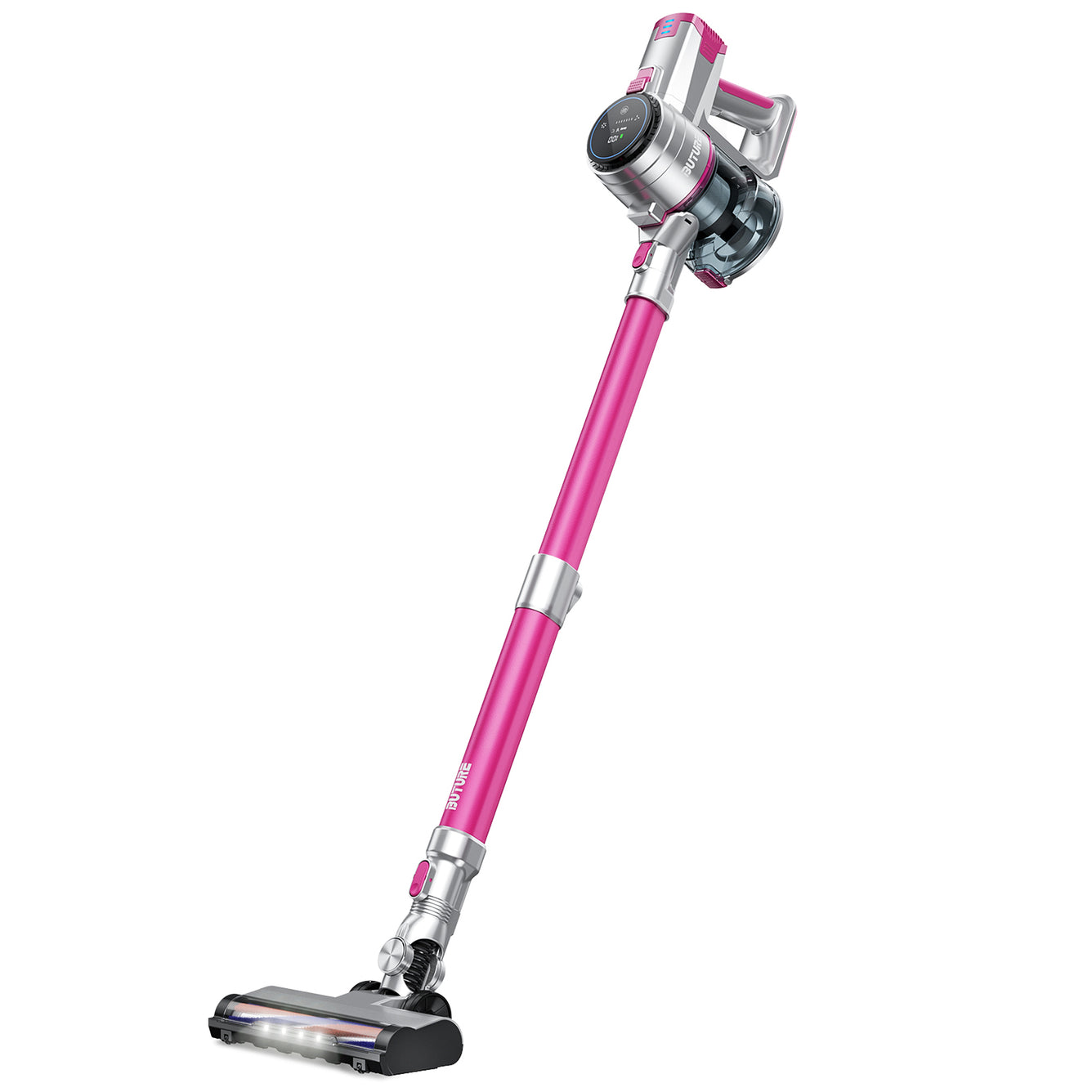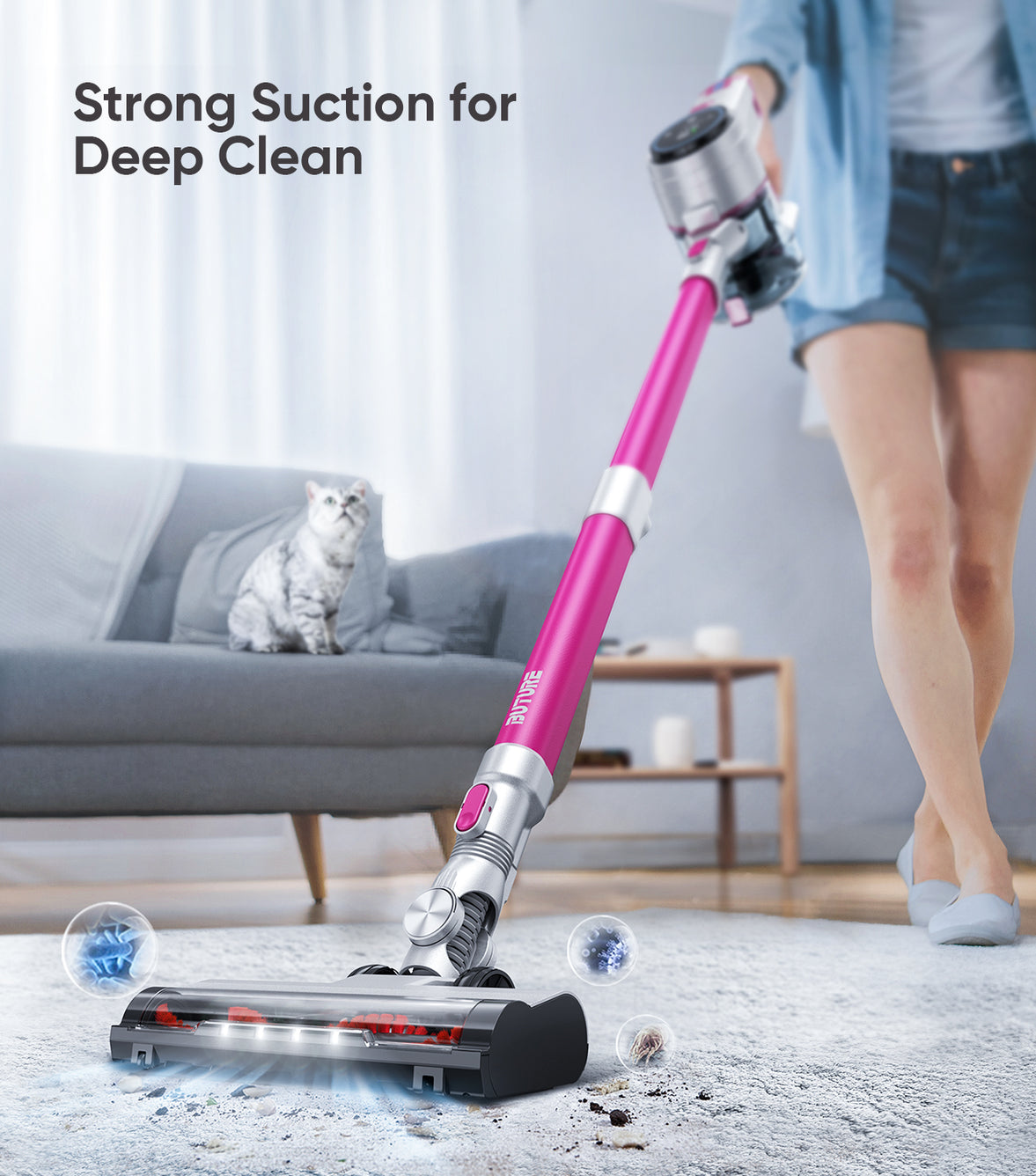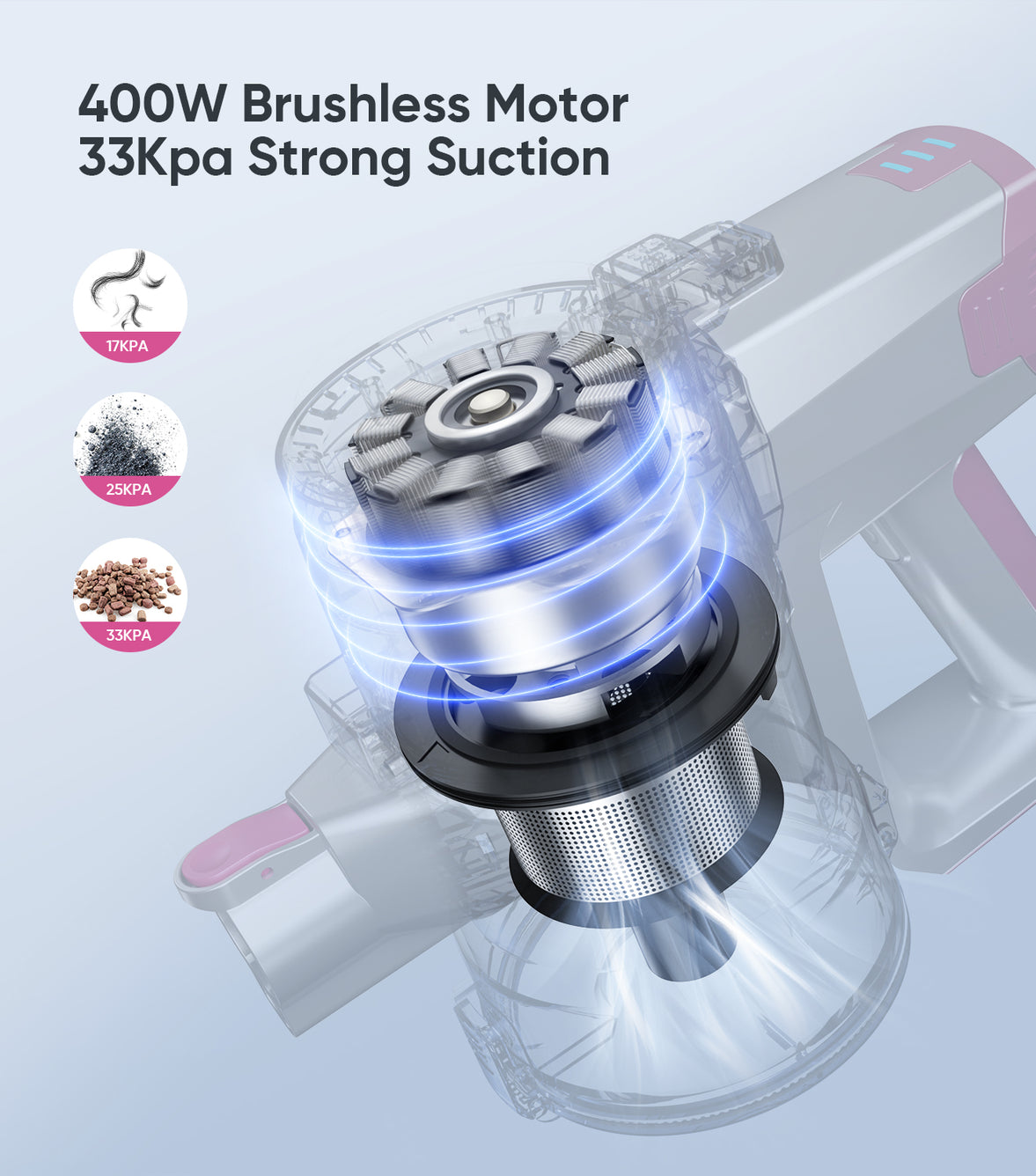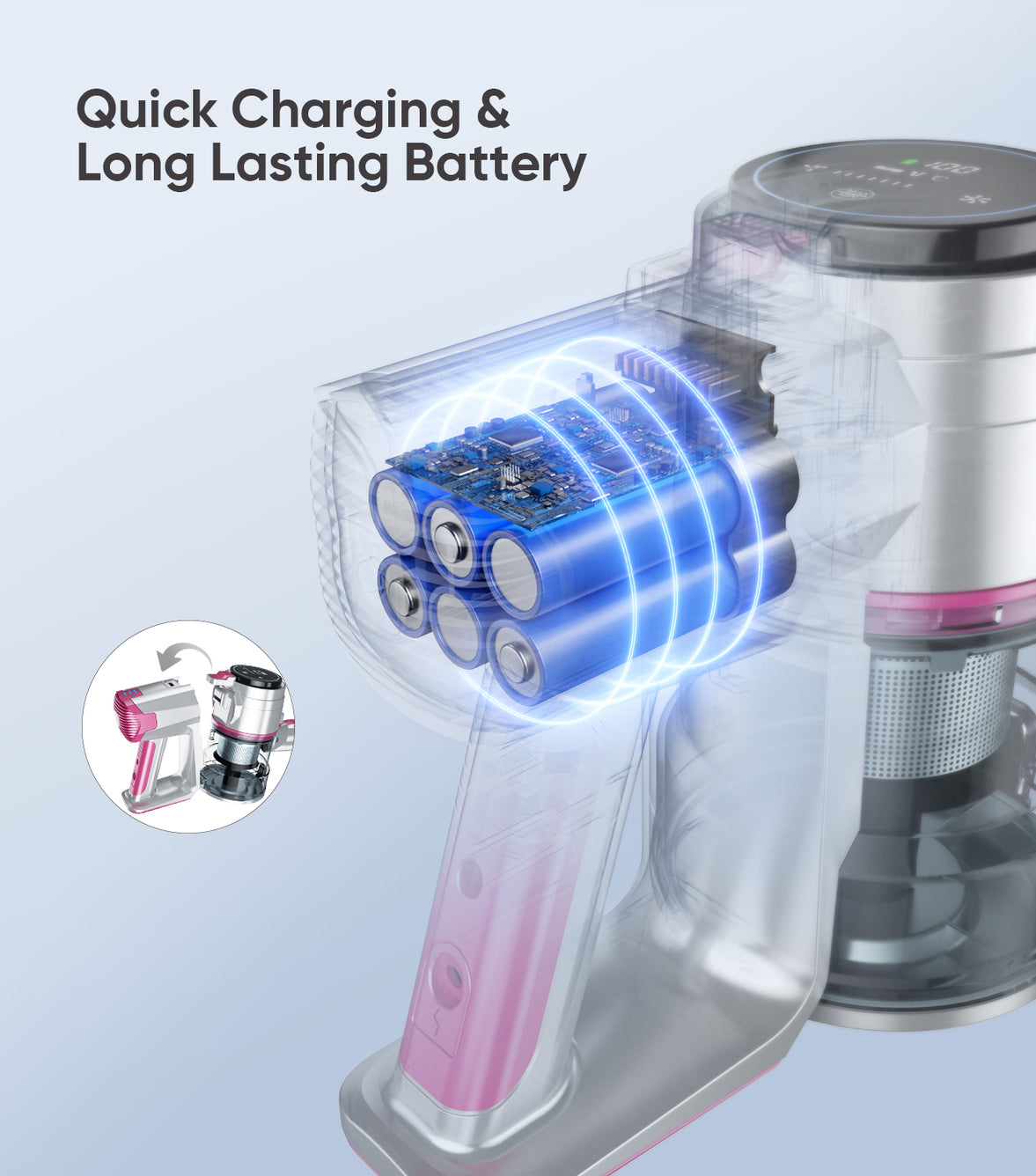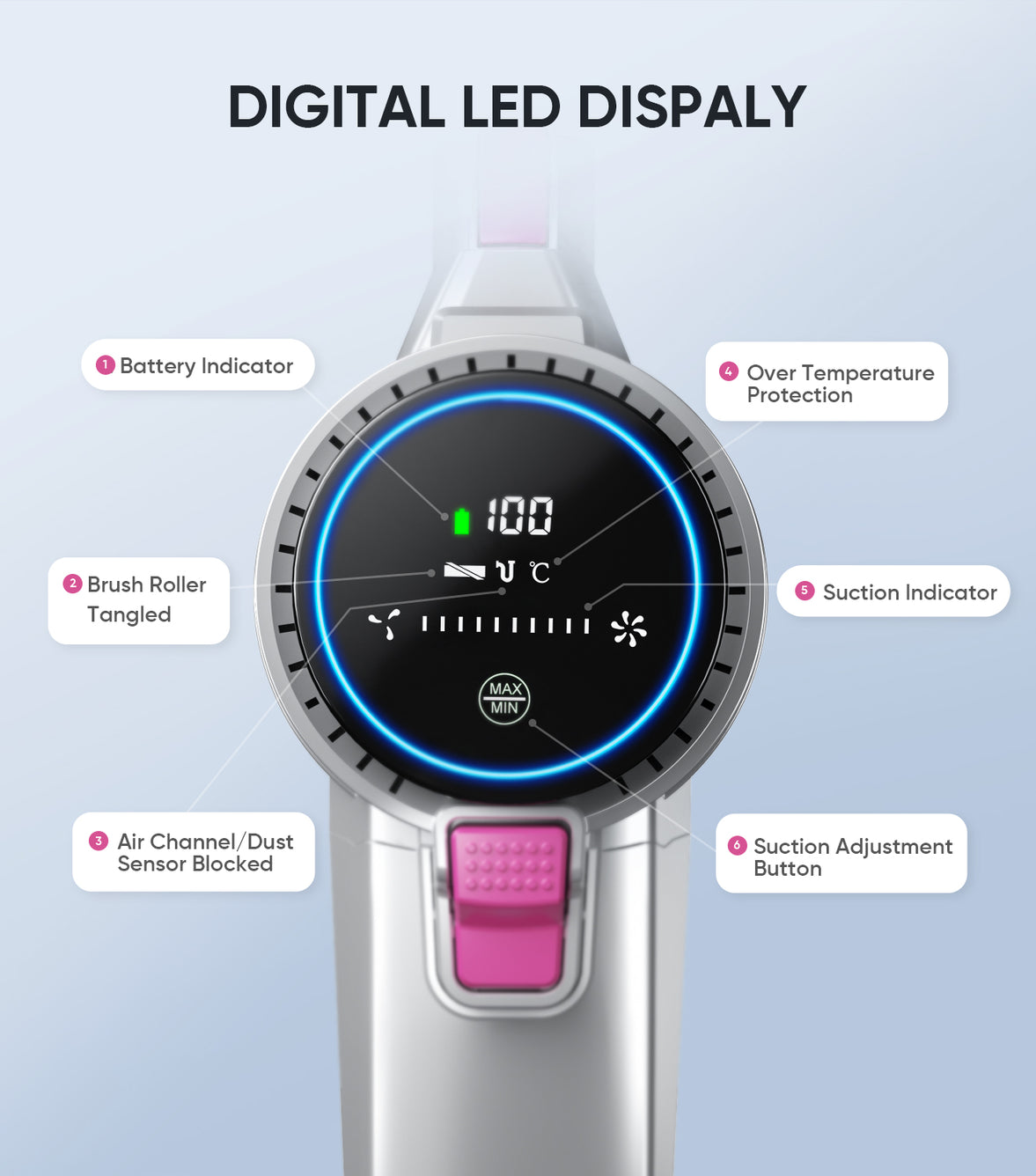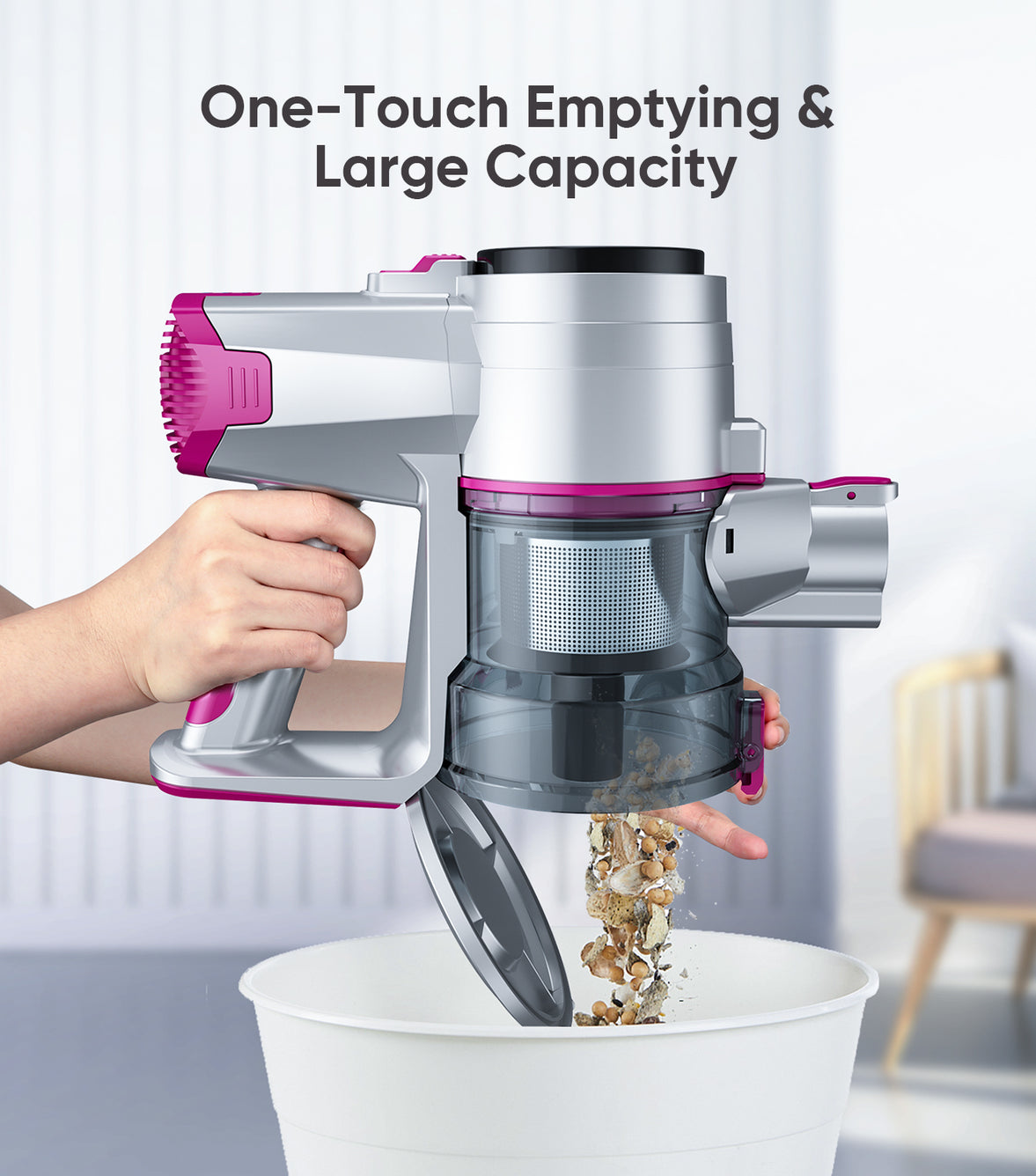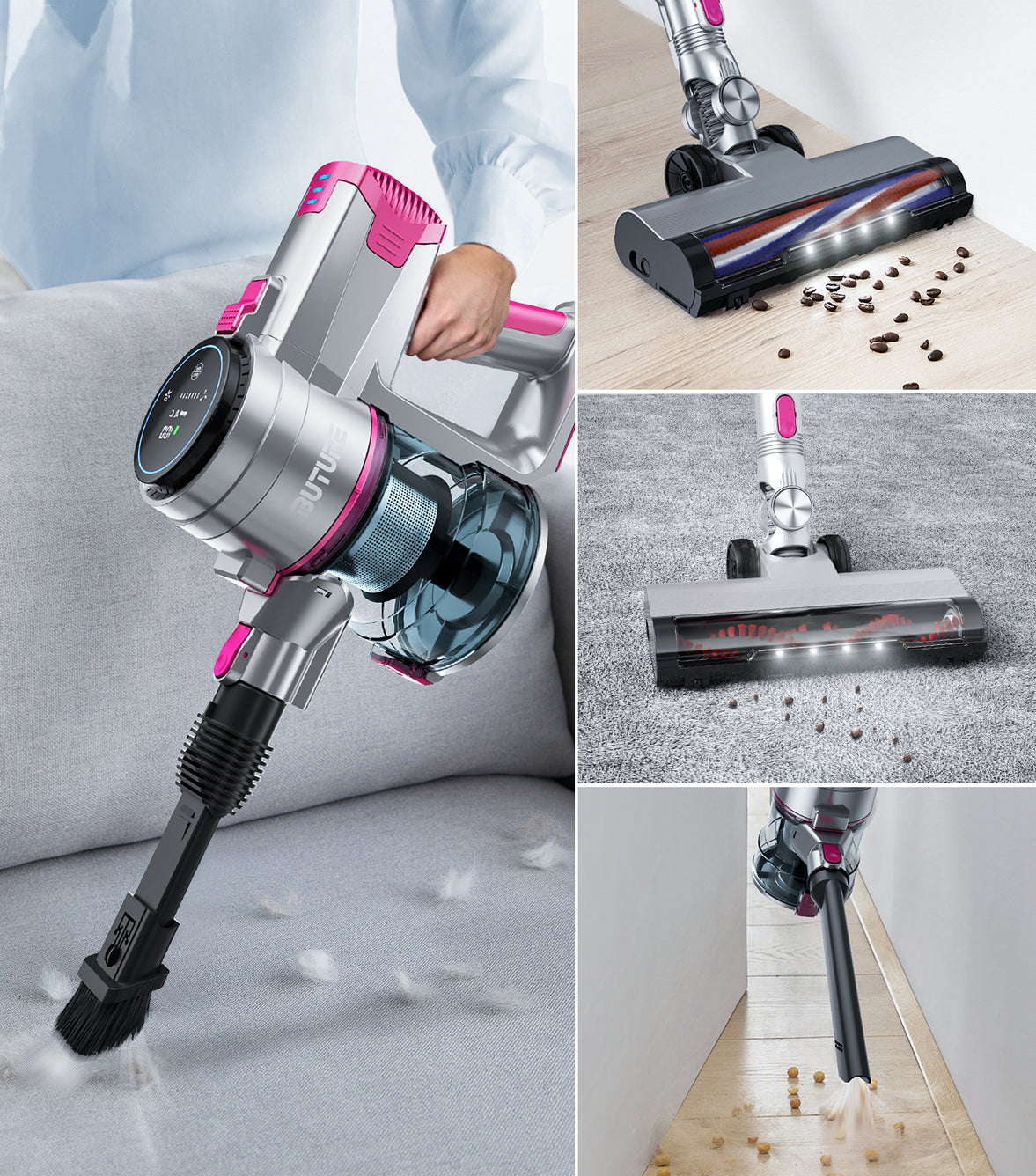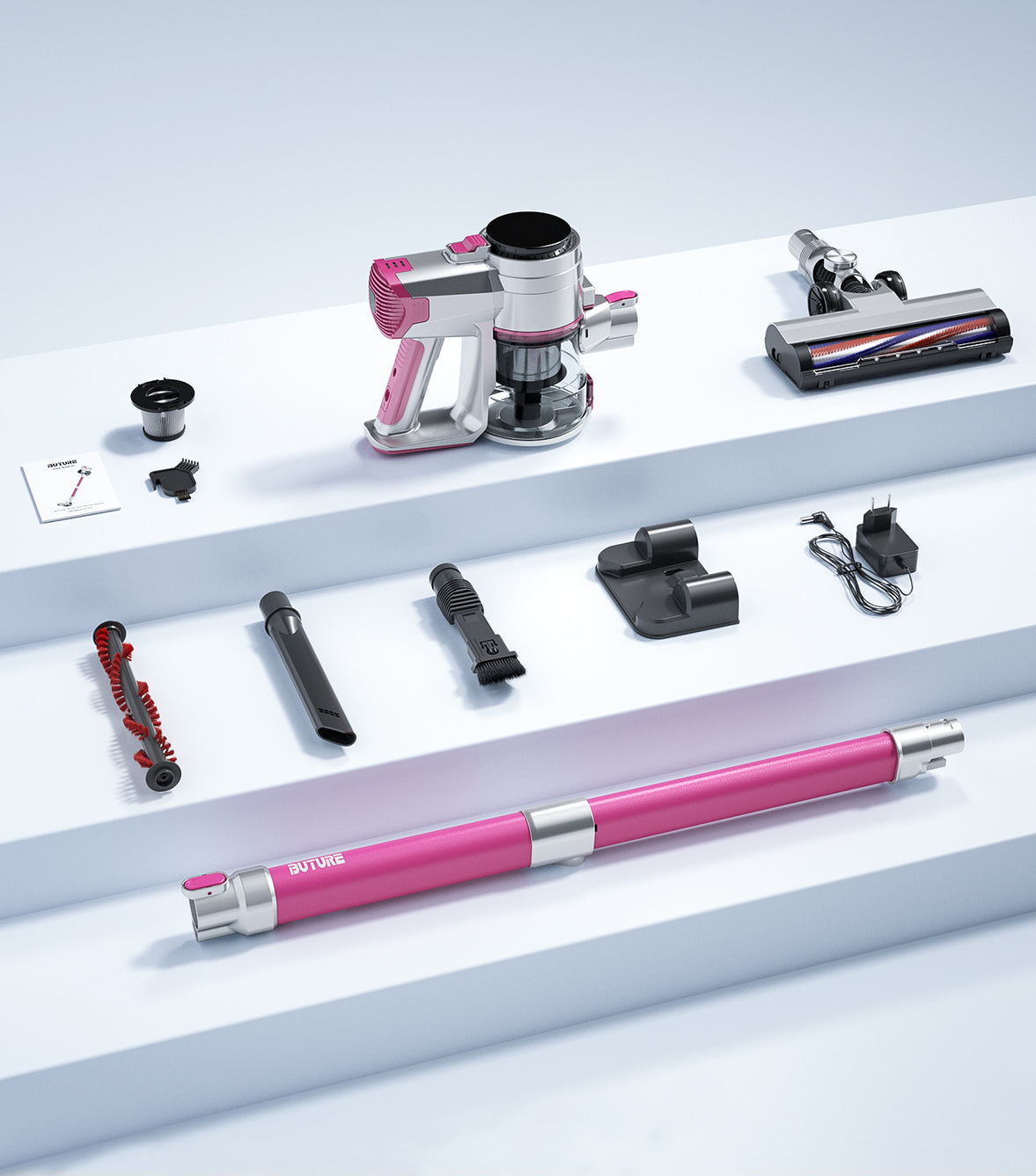 BuTure Cordless Vacuum Cleaner JR300
BuTure Cordless Vacuum Cleaners, 400W 33KPa Powerful Stick Vacuum with Touch Screen,55 Min Detachable Battery,LED Light, Cordless Vacuums for Pet Hair Carpet Hard Floor
🌀 【33Kpa Power Suction & Motorized Brush Head】BuTure JR300 cordless vacuum cleaner is equipped with an advanced 400W brushless motor and the suction power can reach 33KPA. With a powerful electric LED brush head, the powerful vacuum cleaners can easily clean debris on the kitchen floor, collect miscellaneous hair in the bathroom and pet hair in the living room. 33Kpa MAX suction power can easily clean large particles such as dog food.

🔋【55min MAX Runtime & Detachable Battery】-BuTure cordless vacuums with 6 * 2600mAh lithium battery, ensuring cleaning time up to 55 minutes (20 minutes on high speed and 55 minutes on low speed). The battery can be removed and replaced with one click, and you can purchase additional batteries for extended use. This rechargeable vacuum cleaners can be fully charged in 4.5 hours.

📲【Smart Touch Screen & 3 Suction Modes】- Equipped with LED touch screen, the suction power and remaining power of cordless stick vacuum can be seen at a glance. The clogging of the wireless vacuum cleaner can also be checked at any time via the display. It has 3 levels of suction, and you can adjust the suction speed with a touch, or you can adjust it with the click of a button.

♻【HEPA Filtration System】- High-density HEPA which can remove up to 99.99% of microscopic dust particles as small as 0.1 microns, vacuum cleaners cordless provides comfortable purified air for the room. 1L large-capacity dust box can meet the cleaning needs of pets and large areas of households. The filter is washable and regular cleaning of the filter and sponge can prevent weak suction and clogging.

🍀【4 in 1 Cordless Vacuum Cleaner】- BuTure JR300 comes with 4 types of brushes and a telescopic tube (extends from 41cm to 68cm). With these versatile vacuums accessory, you can easily clean dust or pet hair from ceilings, sofas, carpets, hard floors and crevices. Telescoping tube helps clean high places and hard-to-reach places. The brush head has 4 bright LED lights for good cleaning even in dark places.
$329.99
BuTure JR300 4 in 1 Cordless Vacuum Cleaner - Cleaning is easier than imagined
What benefits can the JR300 cordless vacuums offer you?
High Power and High Suction:The powerful 400W motor provides up to 33kpa cyclonic suction, which is twice that of ordinary electric brooms, which can suck up dust, debris, hair, cat litter in seconds, and you can clean the room thoroughly

.

LED Smart Display:Real-time monitoring of remaining power, vacuum cleaner suction and locked rotor status, which is more convenient than vacuum cleaners without a display on the market.

55min Long Running Time:low mode 17Kpa-55min, medium mode 25kpa-30min, high mode 33Kpa-20min. When fully charged, it can support cleaning the entire home without charging halfway and saving your time.

Multi-layer Filtration System:high-density filtration, effectively filtering dust, bacteria and viruses, purifying the air to the greatest extent, and taking care of the health of children and pets.

Detachable Battery:The 2600mAh battery adopts a detachable and replaceable design, which can be charged and replaced separately. Additional battery packs can be purchased separately.

Large-capacity Dust Box:The 1L-capacity dust box can accommodate more garbage. It can be cleaned at one time when cleaning, so there is no need to repeatedly clean the dust box before continuing to work
Blockage Reminder Function
When the floor brush is clogged by hair or impurities, the icon of '

Brush Roller Tangled

' on the display will light up in red, you need to clean the floor brush in time.
The aluminum tube and the dust cup are blocked, and the icon of '

Air Channel/Dust Sensor Blocked

' lights up in red. Clean the aluminum tube and the dust cup in time to ensure the normal operation of the vacuum cleaner
2 Types of replaceable brushes for hard floors / carpets
Stiff Roller Brush

-------Suitable for carpets, its hard carbon fiber bristles quickly and effectively remove dirt and hairs hidden on rugs.

Soft Roller Brush

-------Suitable for hard floors such as wood and tile, its soft anti-static fiber bristles are less likely to get tangled in hair and won't scratch the floor.
Package List
Vacuums Main Body

Telescopic Tube

HEPA filter *2 (1pc installed, 1pcs for replacement)

Mini Cleaning Brush

Wall bracket

Charger

User Manual

Motorized Brush with LED (Soft roller brush included)

Stiff Roller Brush

Long Crevice Nozzle

2 in 1 Brush

User Manual
Specifications
Suction Mode:

3 mode; Eco/Standard/High(20Kpa-30Kpa)

Battery Pack:

6*2500mAh durable lithium batteries

Running Time:

20-55 minutes (20 minutes at high speed and 55 minutes at low speed)

Noise Index:

68db

Dust Cup Size:

1L

HEPA-Filter:

washable, re-usable

Telescopic Tube:

41-68 cm

Blockage Reminder Function:

Brush Roller Tangled and Air Channel/Dust Sensor Blocked