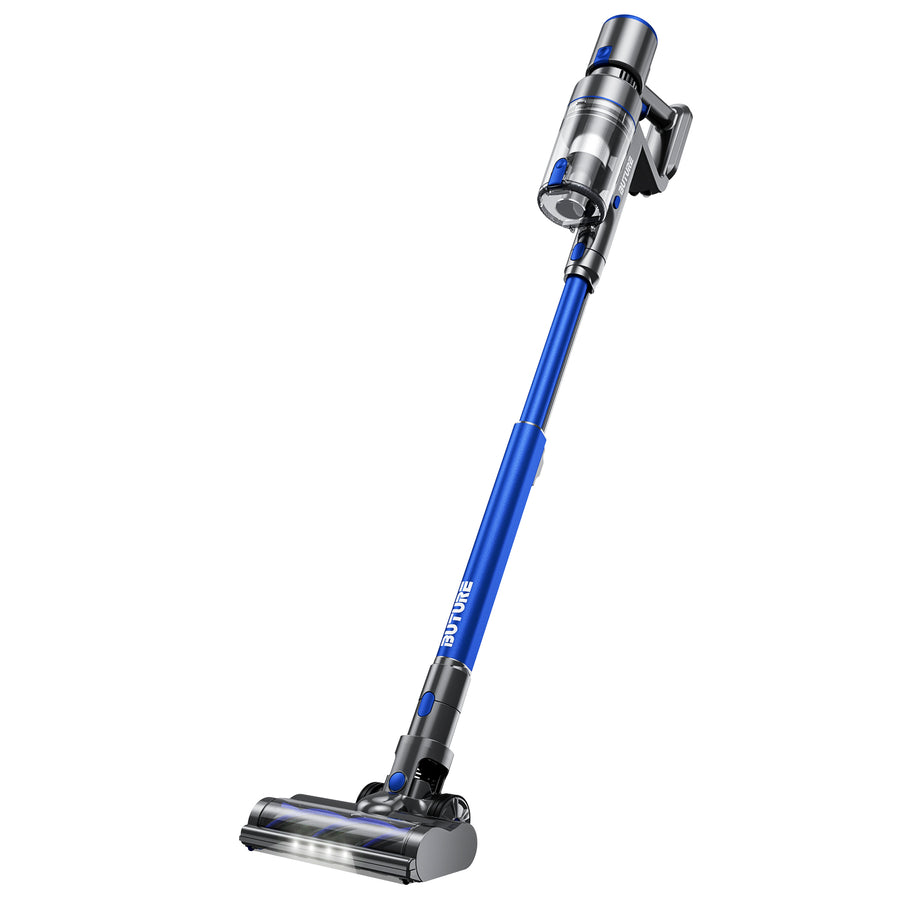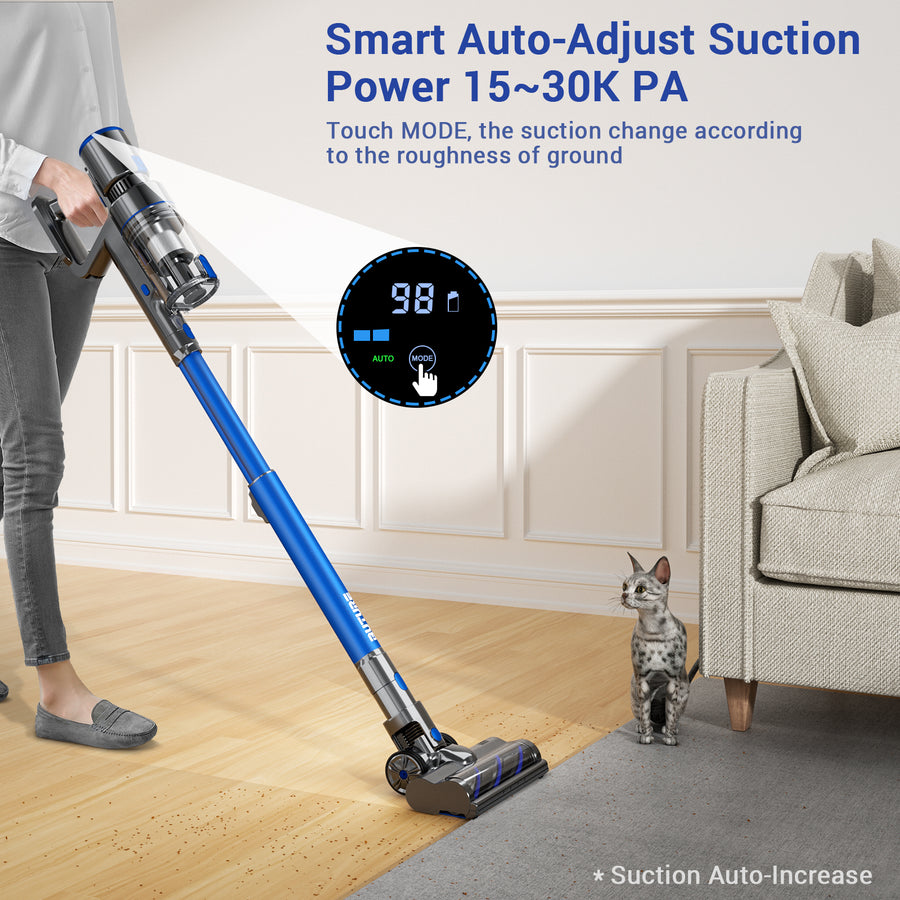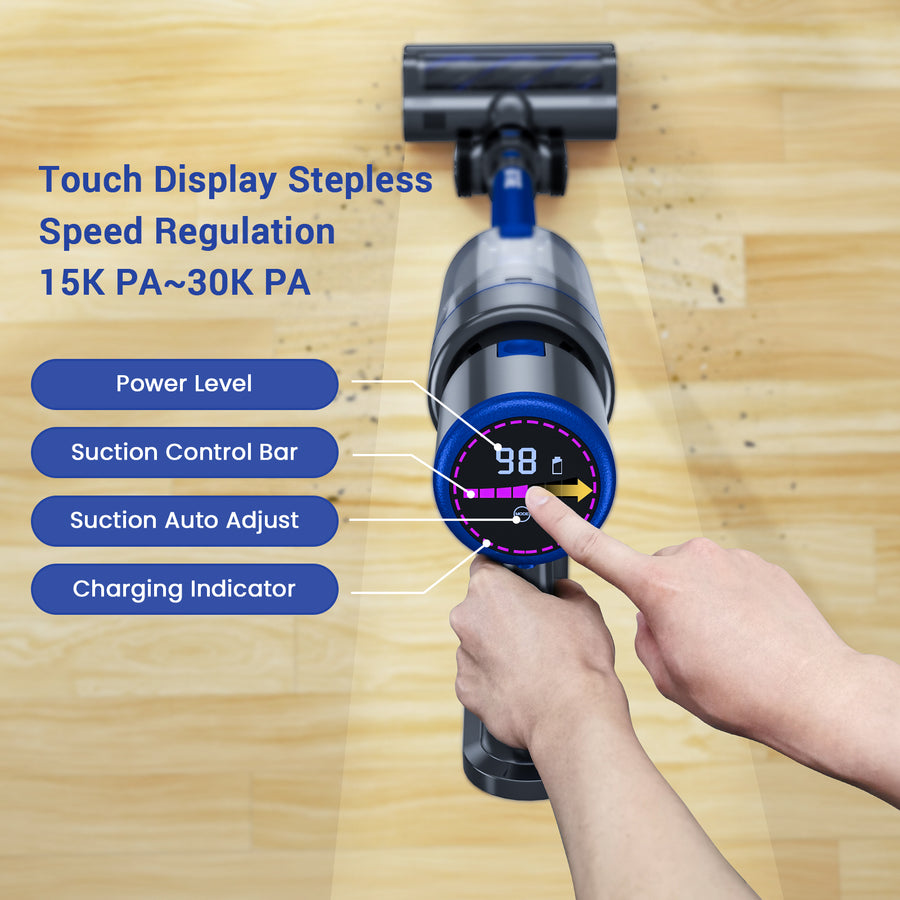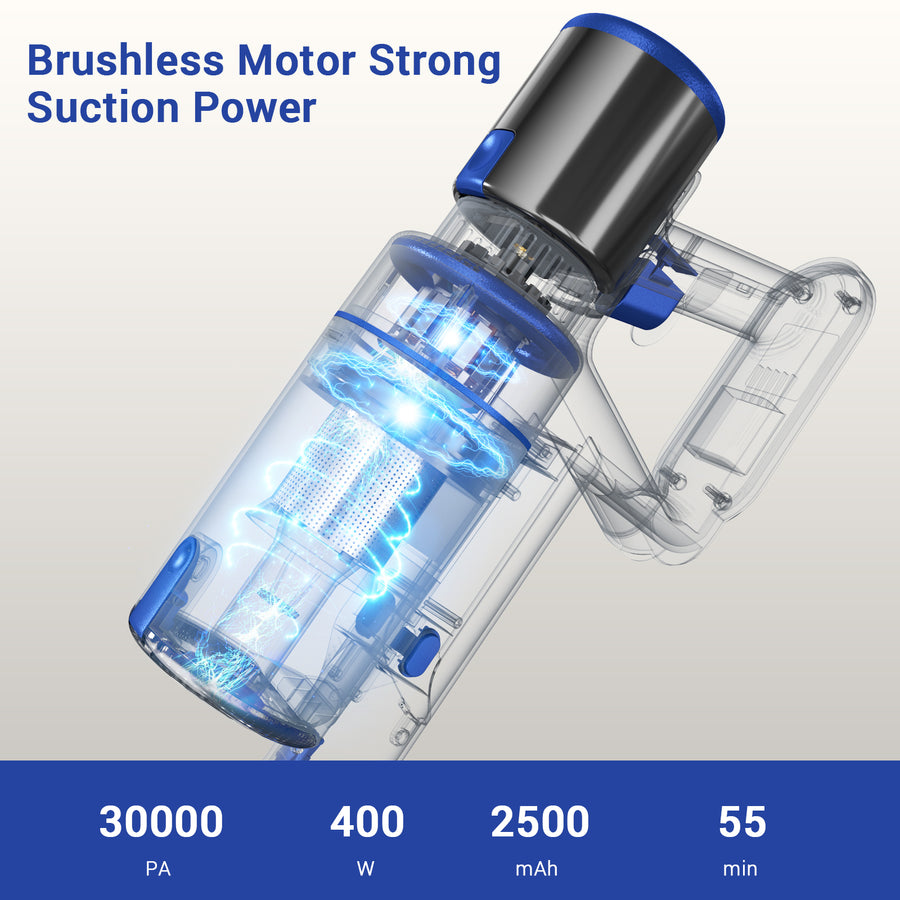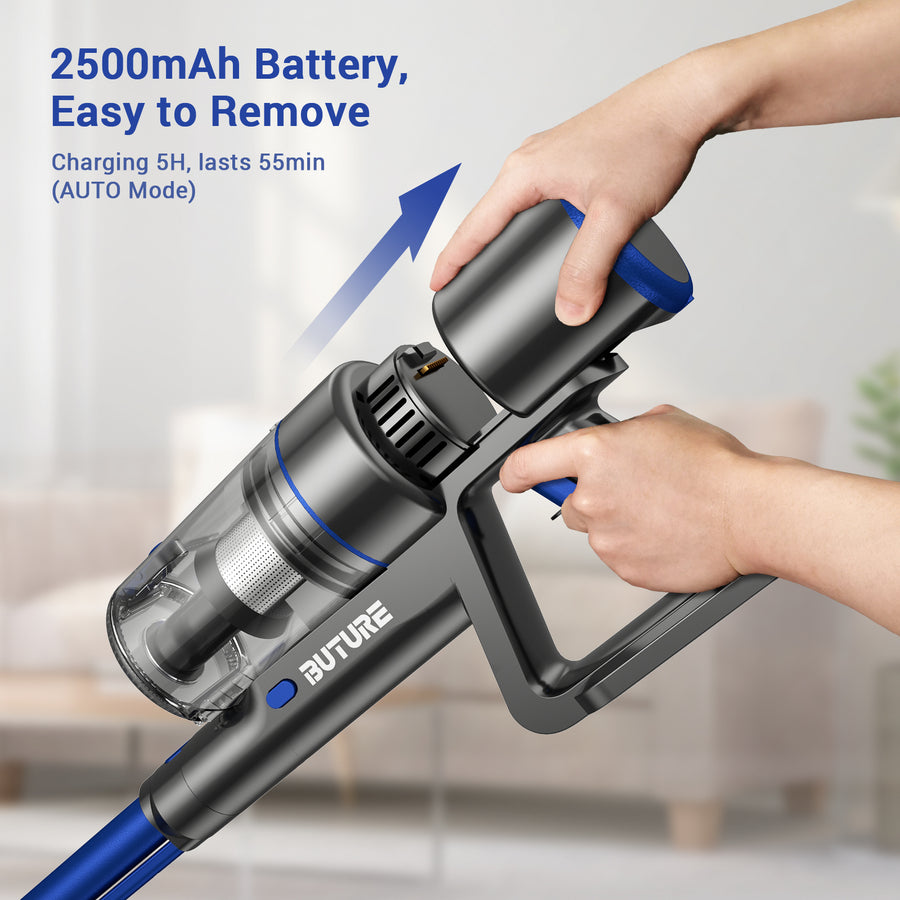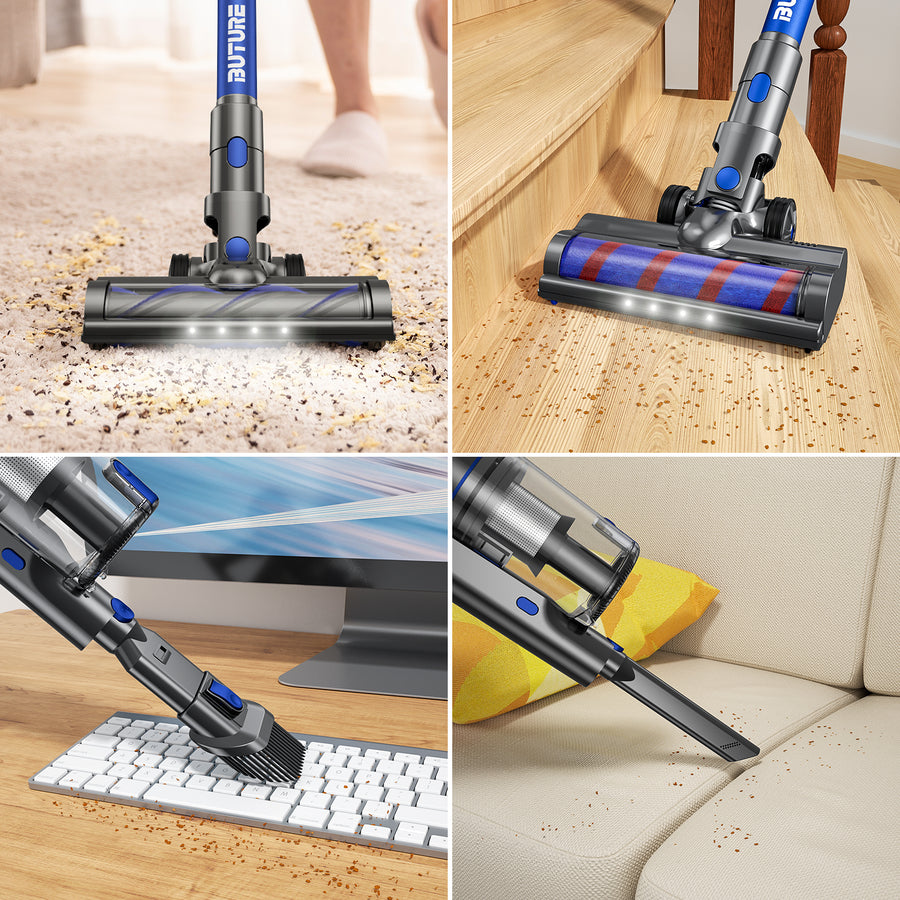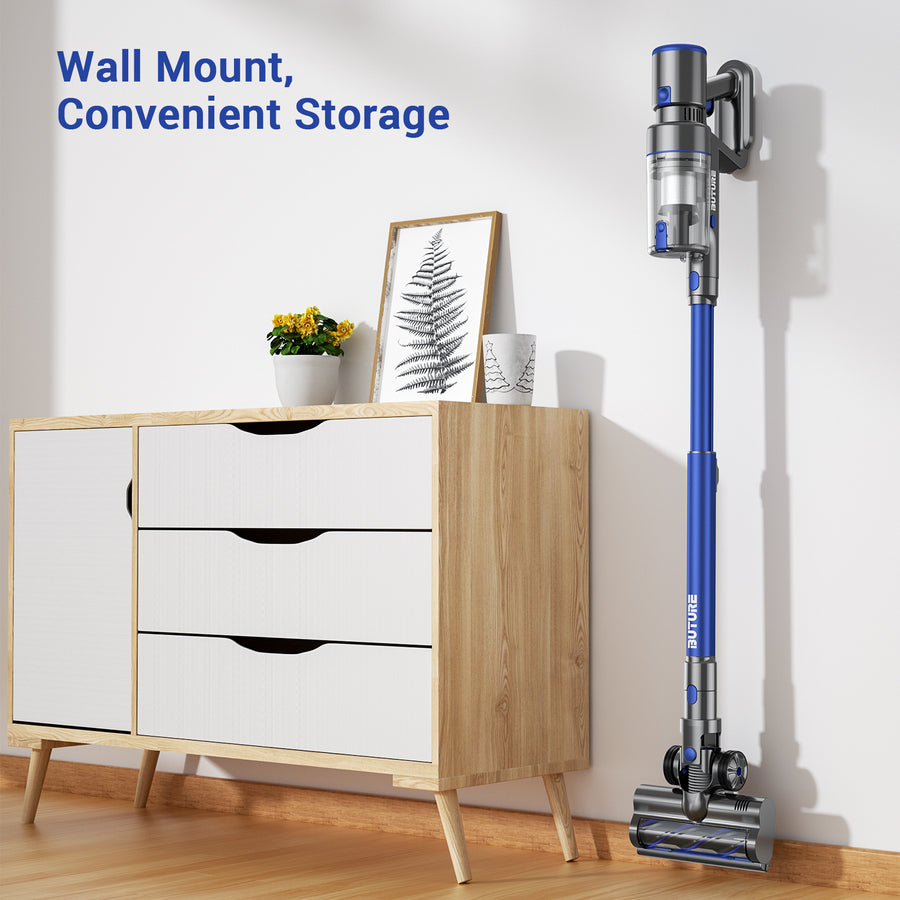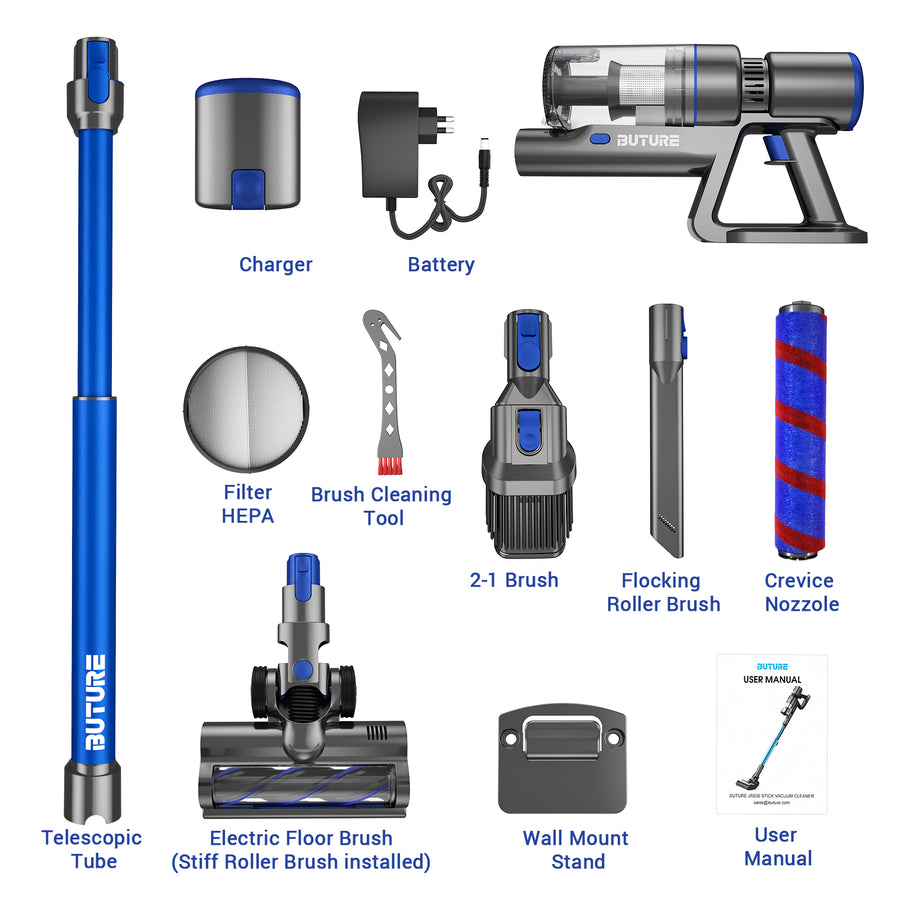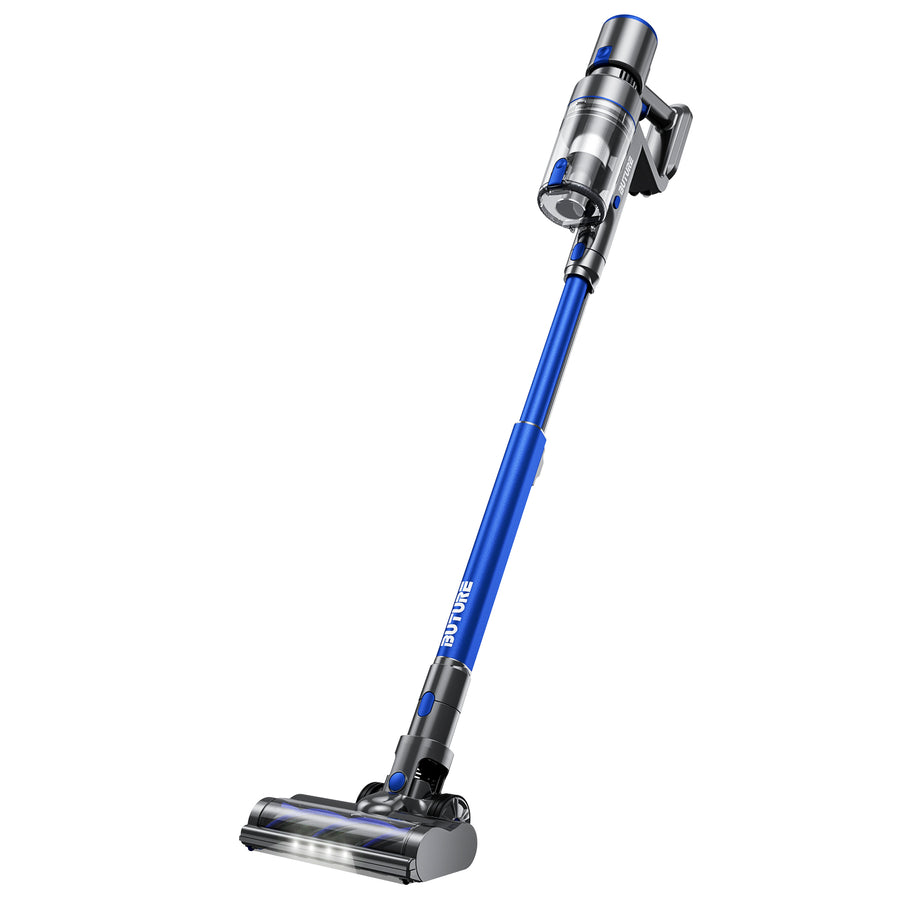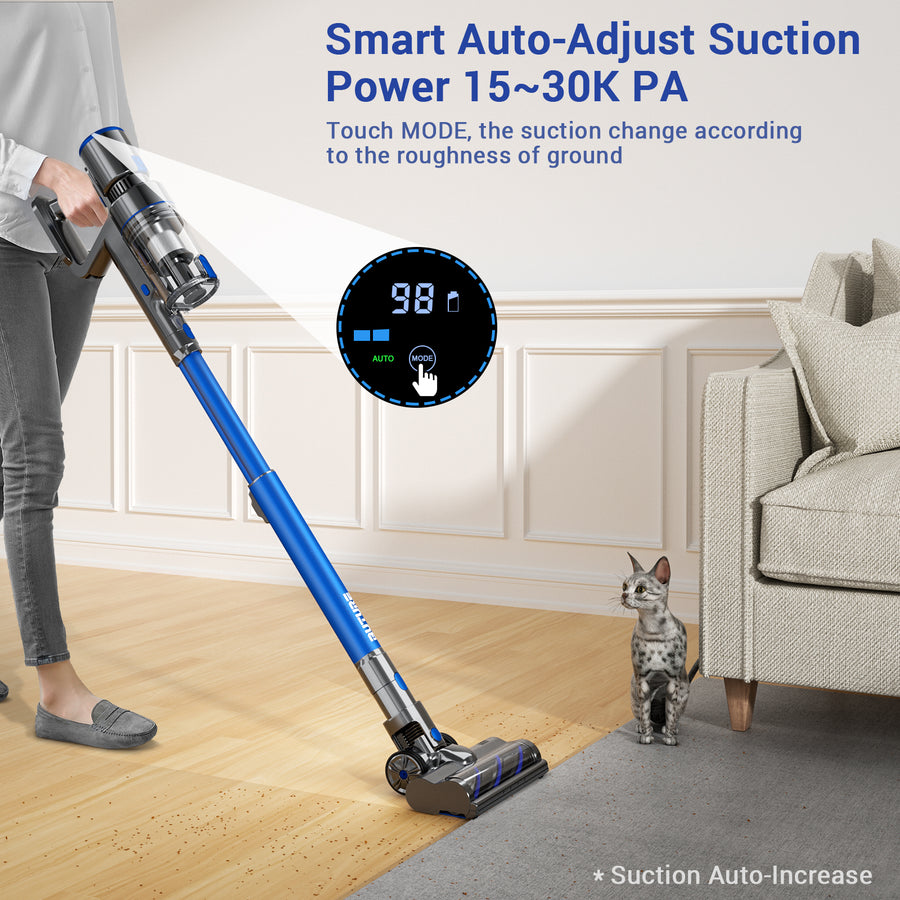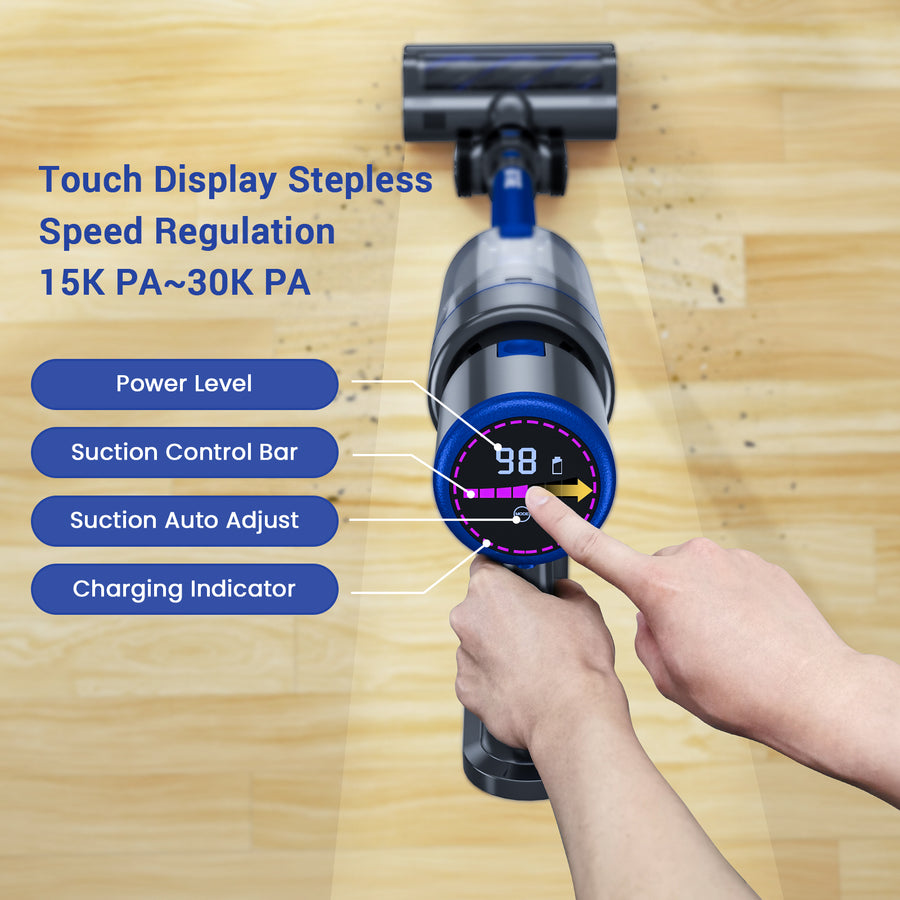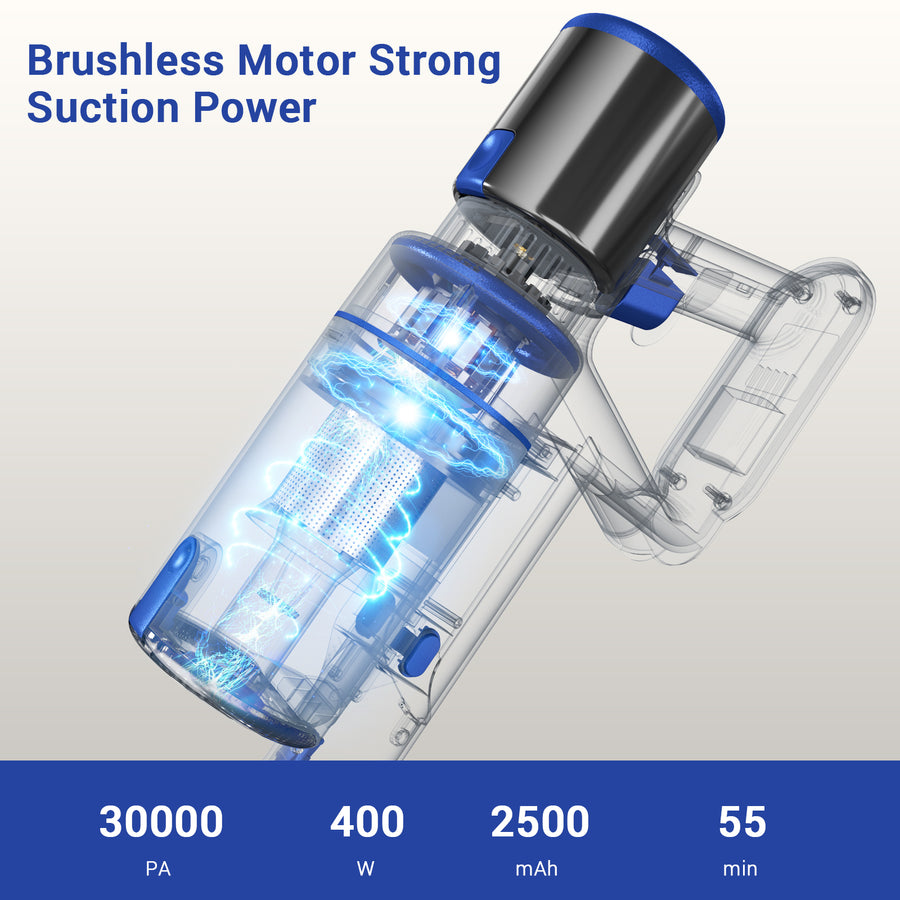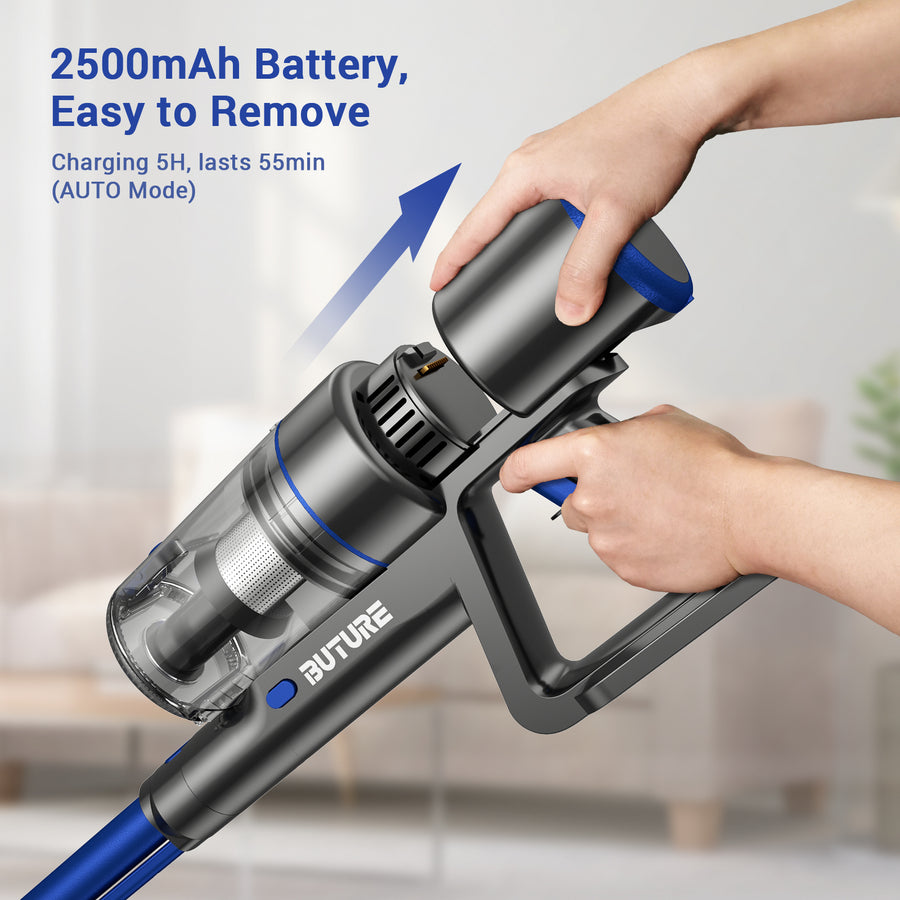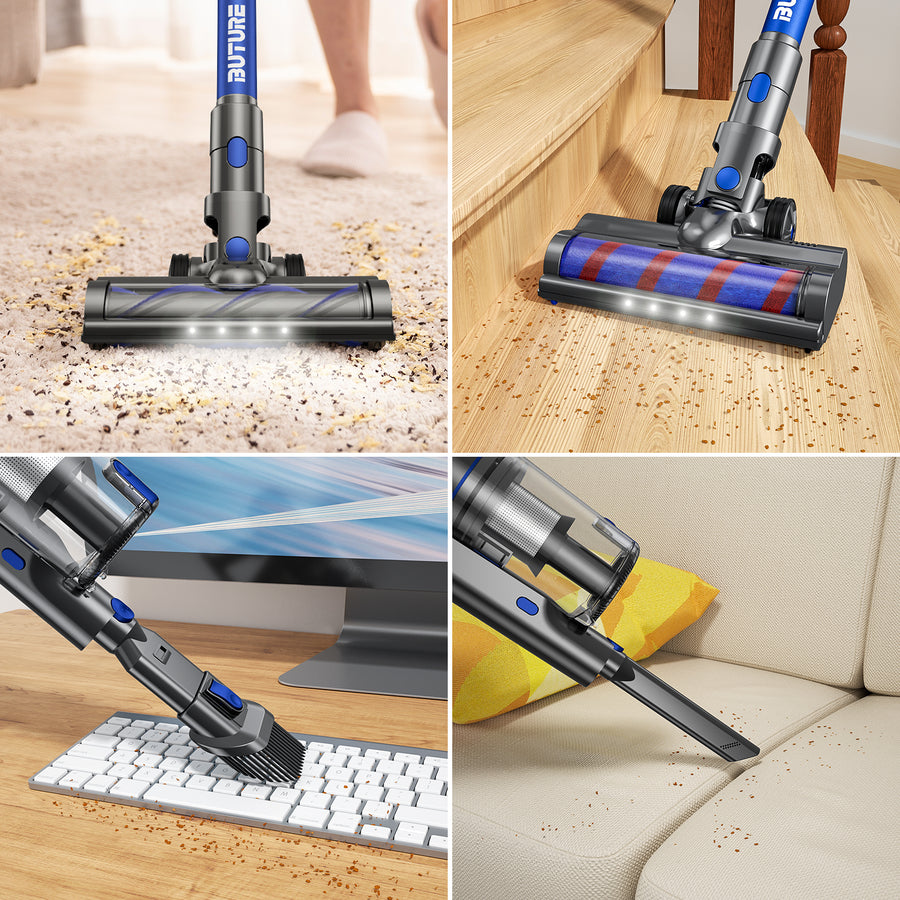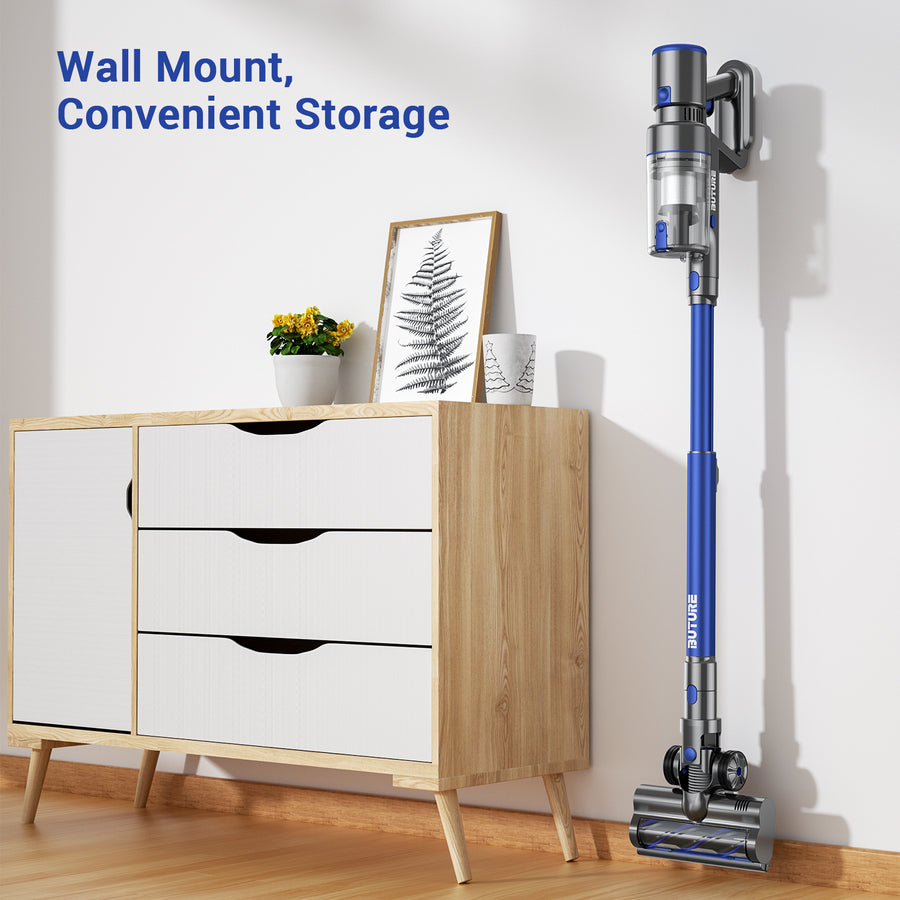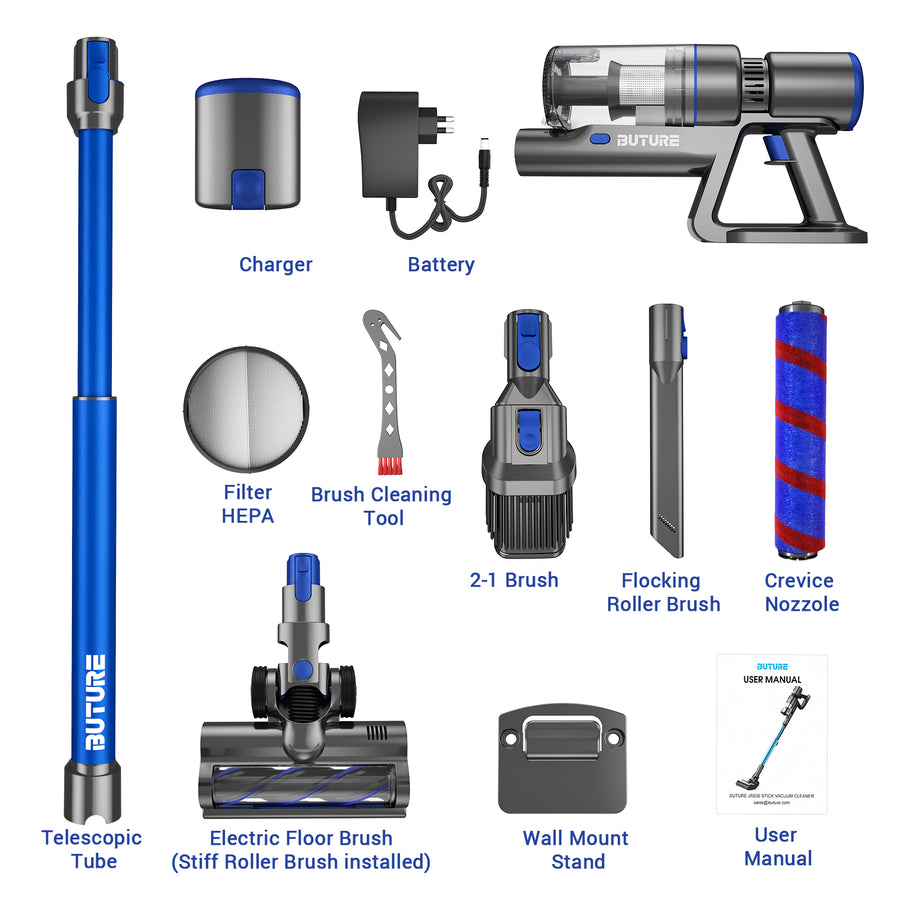 BuTure Cordless Vacuum Cleaner JR200
BuTure Cordless Vacuum Cleaner, 30KPa Powerful Stick Vacuum with 55min Runtime, Touch Display, LED Electric Brush, Detachable Battery, Lightweight Handheld Vacuum for Car Pet Hair Carpet Hard Floor
【30KPA & 400W Powerful Suction】- BuTure JR200 cordless vacuum cleaner is equipped with a 400W brushless motor and various brush accessories. Its powerful suction power of up to 30KPa can remove fine dust and dirt at one time. Its suction power is far greater than that of all vacuum cleaners on the market, and it can meet all the cleaning needs in daily life.

【55min Maximum Running Time and Detachable Battery】- BuTure JR200 cordless vacuum cleaner with 7 lithium-ion batteries to ensure a cleaning time of up to 55 minutes (15 minutes at high speed and 55 minutes at low speed). The battery can be removed and replaced with one button.

【Touch Display and Carpet Automatic Detection】 - The LED display shows the remaining power and suction power of the wireless vacuum cleaner in real time. This allows you to easily switch to automatic mode and control the suction power. In the automatic mode, the vacuum cleaner can automatically detect the carpet and adjust the suction power to better clean the carpet. Soft roller brush with flocking, suitable for wooden floors.

【Retractable Extension Tube and LED Lighting】- BuTure JR200 cordless vacuum cleaner with a compact lightwight design. The telescopic extension tube (from 45cm to 71cm) is suitable for people of different sizes and is easy to store in the closet. An electric brush with LED lighting can find dirt in every corner and crevice.

【High Efficiency Filtration System】- BuTure cordless vacuum cleaner has an efficient HEPA filter system that can remove up to 99.99% of fine dust, ensuring that dust does not spread in the air and pollute the air.
$299.99
High-performance Cordless Vacuum Cleaner JR200
JR200 Cordless Vacuum Cleaner is BuTure's latest and highest performance vacuum cleaner.
With a high suction power of 30000Pa, suitable for various scenes and meet all requirements;

With a touch screen, you can slide the speed bar on the display to set the suction(3 grades);

A removable battery provides up to 55 minutes of running time;

LED electric brushes and various brushes accessories, provide lighting and clean blind areas.
Multifunctional accessories, assemble at will, BuTure JR200 vacuum cleaner can meet all cleaning needs in daily life.
To achieve the best suction performance:
Regularly clean the HEPA filter, dust container and brushes. Dry the HEPA filter before putting it back in place.

Change the HEPA filter every 1 month. The product is equipped with 2 HEPA filters: one is installed in the dust container, another is included in the box.
BuTure JR200 Cordless vacuum cleaner has 2 types of replaceable brushes for hard floors / carpets
Soft Roller Brush: Suitable for hard floors such as wood and tile, its soft anti-static fiber bristles are less likely to get tangled in hair and won't scratch the floor.

Stiff Roller Brush: Suitable for carpets, its hard carbon fiber bristles quickly and effectively remove dirt and hairs hidden on rugs.
Intelligent Vacuum Cleaner
30000 Pa Strong Suction Power
The brushless motor can reach a high rotational speed of up to 110k RPM, which generates a suction force of up to 30000 kPA. All dirt particles can be vacuumed off quickly.
The suction power is larger than that all of vacuum cleaners on the market, which can meet all your needs
AUTO MODE
In Auto Mode, the vacuum cleaner can automatically adjust the suction power according to the roughness of the floor.
Tiles and wooden floors - slow and medium strength

Concrete floors and short-skinned carpets - medium and high

long-haired carpets - high
Stepless Speed Control 15 ~ 30 kPA
Set the suction power by sliding the speed bar on the display.
Low suction power - Blue

Medium suction power - Purple

High suction power - Red
Easy to Use - BuTure JR200 Cordless Vacuum Cleaner
Detachable Battery with One Click
The lithium-ion battery 2500 mAh with 7 cells offers up to 55 minutes of continuous operation
Easy Emptying of the Dust with One Click
To get good suction, empty the dust bin when the waste reaches the MAX line.
2 Rollers to choose from
Soft roll with flake is good for protecting the wooden floor.
Hard roller with stiff bristles for removing dirt on the carpet.
No Blind Zone
With LED lighting, the vacuum cleaner can also clean the darker areas such as under the sofa, in the sun, under the bed, etc.
The flexible angle of the head allows movement in the hard-to-reach areas.
Long Sucker
Ideal for cleaning tight spaces, sofa corners, cupboard corners
2-in-1 Brush
Convenient for cleaning uneven surfaces such as computers, keyboards, curtains, and air conditioning ventilation panels.
Telescopic Tube
Makes it easier to clean places with different heights, such as curtains, ceilings